Max Papis Innovations founder is supporting Mazda and other club racers
The chances of young Max Papis making it to the top of the racing world were slim. Coming from a small village in Northern Italy, he describes those chances as "one in a million." Knowing that goes a long way toward understanding the appreciation, passion and support of grassroots racers that the former Indy car, NASCAR and sports car driver and founder of Max Papis Innovations demonstrates with actions like his support for the GT3 Challenge.
"I came from very little and worked really hard," says Papis. "When I started MPI – although we started working with the best of the best like Jimmie Johnson and Dale Jr. – I wanted to make sure all of the safety and technology that we were developing for the top tiers of the sport was available to the same guy that was Max when I was 14, 15, 16 … the guy that enjoyed going racing at his local racetrack."
MPI makes racing steering wheels and related items. While comfort and grip – elements developed with the help of the sport's top drivers – are key to the company's products, the true aim is to treat the steering wheel as a safety device with the same consideration as the seat or belts. First, the wheels are designed to deform in the case of an impact; second, Papis says that just as belts have a lifespan, so do steering wheels. Mazda sells one of MPI's wheels, the same wheel used in the Mazda MX-5 Cup car, and MPI is offering wheels to GT3 Challenge race winners.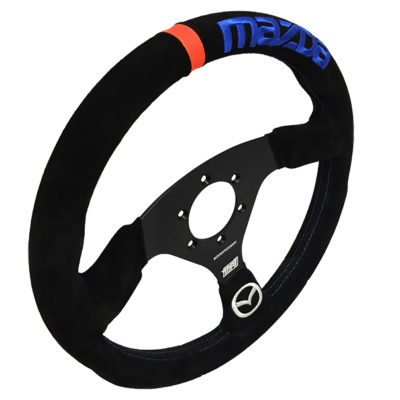 "When Mazda presented the opportunity for me to be part of the MX-5, to be part of the GT3 Challenge, it was a no-brainer for me. First of all, I love it; I love the enthusiasm and I love the passion, the true passion for the sport that is at that level. I think it is my duty as a pro to share the story with everyone else. Who knows if there is another Scott Dixon between those guys that are out there on a Sunday trying to put their things together? Who knows if there is another Jimmie Johnson? I feel that me being involved with Mazda and being involved at that level, it's a way of sharing what happened with me and, at the same time, providing a safe product and a unique product that Mazda owners can enjoy," Papis explains.
In all things racing, if there's no improvement in cars and drivers, then things are going the wrong way on the time sheets. The same is true in Papis's industry, and the moving-ever-forward idea is expressed in the "Innovations" part of the company's name.
"I like to think of us as innovators," he says. "You will see innovation coming on the grip level, on the material we're going use, where we're going to reduce fatigue and increase grip. That's already in the pipeline, and there is going to be some innovation on the construction itself. I like to think that what you see now, we're already three generations ahead and that's what we are working on. Obviously this is a business, but I created my business with a transparency and with safety and innovations that will are a part of what MPI is doing now and what MPI will do forever."