The winner of the 2018 Mazda Road to 24 Shootout has been a phenom in Spec Miata for several years
Michael Carter's racing life could have gone very differently. Coming to a crossroads where one path led to Late Models on dirt ovals and the other led to Spec Miata, he chose wisely. Now, that Spec Miata path led him to the 2018 Mazda Road to 24 Shootout, where he came out on top to win a full scholarship for the 2019 Idemitsu Mazda MX-5 Cup presented by BFGoodrich® Tires.
"The reason I started racing a Mazda was because of the Shootout," Carter admits. "It's been my one goal all along."
Carter's journey started in quarter midgets, even before he was old enough to race. His father painted a track in the parking lot of his auto repair business so he could practice. Then once Carter turned 5, he was racing in places like New Smyrna Beach, Fla., and Salisbury N.C. – the latter in the middle of NASCAR country, so Carter was racing against kids of NASCAR stars as well as future NASCAR racers. Next came a dirt oval car built from a Mitsubishi Eclipse. Carter dominated in that form of racing. Then it came time to choose a direction.
"I had done some ChumpCar races," he says. "We had always had Spec Miata in the back of our minds, because of the Mazda ladder. We figured if I was going to go pro, that was the place to start. Plus, it's the best root you can get. I've been racing Spec Miata for the last four seasons and it's pretty incredible to see where I've come from."
He remembers going off track both days in his first Regional racing weekend. For his second year, he started racing SCCA Majors, and finished second in the 2016 Runoffs at Mid-Ohio Sports Car Course beating the likes of Elivan Goulart, Jim Drago and Andrew Carbonell. That performance in his first appearance at the Runoffs earned him an invite to the Road to 24 Shootout, but Matt Cresci walked away with the big prize.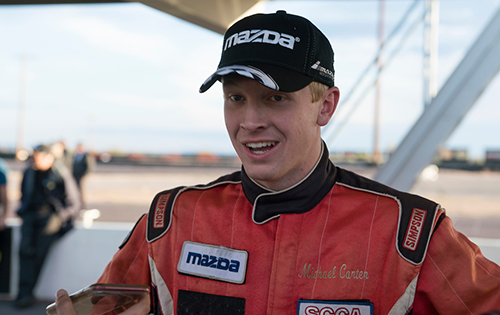 Carter's performance at the 2018 Runoffs wasn't up to his expectations; but then again, he missed testing and the first day of qualifying (at a track he'd never seen) due to school. Luckily, his 2018 race season had gone exceptionally well, finishing on the podium in all but two 2018 SCCA Hoosier Super Tour races, winning three of them and earning the Mazda $30K Spec Miata Challenge – it was that performance that earned him an invitation to this year's Shootout.
"[I learned that] it's a lot more than just driving," he says of how he came to the Shootout more prepared this year. "Maturity, for one thing. I remember at the first Shootout, at the end of the day I wore sweatpants and a hoodie to the racetrack. I didn't understand – I was 16 and I didn't get the big picture. I didn't really know what to expect. Now I've seen Selin [Rollan] go on and win it and seeing how he's done – and then getting a second shot at it … all that has compounded into experience and knowledge."
The change was not lost on the Shootout judging panel, which this year was comprised of Carbonell, Tom Long, Oliver Askew and Victor Franzoni.
"A big part of it was his development," says Carbonell. "He was here two years ago at the Shootout and came back a more well-rounded driver. That played a big part in the decision. He was strong off the track, strong on the track and really came in with the right mindset and thought process and executed well."
Adds Askew: "For us, he provided the whole package. That's what we're looking for. You can be a quick driver on track, but you need to be able to represent yourself and the Mazda brand and your sponsors off the track, too."
The fact that Carter has been racing in the Southeast – often against last year's shootout winner Selin Rollan, who went on to have an exceptional season in MX-5 Cup, and a host of other strong drivers like Alex Bolanos, Danny Steyn, Todd Buras and Dillon Machavern – wasn't lost on the judges, either. Knowing that Carter can hold his own in this crowd was a good indicator that he would be competitive in MX-5 Cup. Carter was confident he had what it took to win the Shootout as well, but there was still an element of surprise.
"You never know with these things," Carter says. "I knew I had done well, but to know what anyone else had done, there was no way [to know for sure]. What the judges thought of them, I had no control over. To hear my name called was a huge relief. I'm just really happy that this has all played out like this. It's pretty surreal."
Carter now has some work to do in choosing a team to compete with in MX-5 Cup. First, though, he had to get back to Georgia Tech for finals, where he's studying business. Then he knows it's time to dial up friends and past Shootout winners Rollan and Patrick Gallagher for a little advice on what to do next. But there's one thing he is pretty sure of: "It's going to be a fun year!"