Mazda drivers topped the point standings in a dozen classes for the 2018 Hoosier SCCA Super Tour
Of the 28 of SCCA's national classes, Mazda drivers won Hoosier Super Tour point championships in 12 of them. These titles include the spec classes of Spec Miata, Formula Mazda, Formula Enterprises and FE2, but Mazdas or Mazda power also helped drivers to titles in eight open classes as well, ranging from Touring 4 to Formula Atlantic.
Three of the drivers earning Hoosier Super Tour championships also won their class at the Runoffs – Matthew Reynolds (E Production), Bryce Cornet (Formula Mazda), and Danny Steyn (Super Touring Lite).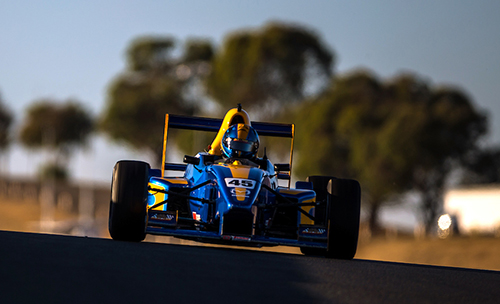 There were several tight finishes in the Hoosier Super Tour point championships this year. The Formula Enterprises 2 battle came down to a tie, with Thomas W. Burt and Rhett Barkau both earning 137 points. However, Burt and his Bulldog Motorsport SCCA FE2 Mazda claimed the point championship based on his fifth-place finish at the Runoffs as compared to the eighth-place finish of Barkau.
Two other close point championships to note occurred in the Touring 4 and Spec Miata classes. The T4 point championship went to the Hoosier Mazda RX-8 of Ross Murray, who amassed five more points than runner-up Gresham Wagner driving a Mazda MX-5. And in SM, it's Chris Haldeman in his X-Factor Racing/Sunoco/G-Loc Mazda Miata who claimed the Hoosier Super Tour point championship by eight points over Michael Carter.
Only the top six regular-season finishes counted toward a driver's 2018 point total. Points were also awarded for a seventh and final race, the Runoffs. For each race, points were awarded to the top 20 finishers in each class. Winners earned 25 points, and 21 points went to second. Points were then doled out to others starting with 18 and descending to a single point for the 20th finisher.
The Mazda drivers claiming Hoosier Super Tour points championships are eligible for up to $1,500 in contingency payouts from Mazda. Michael Carter won the Spec Miata $30k Challenge bonus, a two-race scholarship to compete in the Idemitsu Mazda MX-5 Cup presented by BFGoodrich® Tires.
The 2019 Hoosier Super Tour season begins on Jan. 11-13 at Sebring International Raceway. New tracks hosting the Hoosier Super Tour in 2019 include Michelin Raceway Road Atlanta and, ending the season, WeatherTech Raceway Laguna Seca.
Mazda Hoosier Super Tour Points Champions
Class: Driver; Hometown; Region; car
E Production: Matthew Reynolds; Boerne, TX; Alamo Region; Mazda Miata
F Production: Charlie Campbell; Corry, PA; Mohawk Hudson Region; Mazda Miata
Formula Atlantic: Paul Ravaris; Aledo, TX; Texas Region; Pro Formula Mazda
Formula Enterprises: James Libecco; Solon, OH; NeOhio Region; SCCA FE Mazda
Formula Enterprises 2: Thomas W. Burt; Woodway, WA; Northwest Region; SCCA FE2 Mazda
Formula Mazda: Bryce Cornet; Norman, OK; Oklahoma Region; Formula Mazda
GT-3: Jeff Dernehl; Roswell, GA; Atlanta Region; Mazda RX-7
GT-Lite: Larry Svaton; Alvin, TX; Houston Region; Mazda MX-5 Miata
Prototype 1: Darryl Shoff; Fort Myers, FL; Northeastern Pennsylvania Region; Elan DP02
Spec Miata: Chris Haldeman; McKinney, TX; Texas Region; Mazda Miata
Super Touring Lite: Danny Steyn; Fort Lauderdale, FL; Florida Region; Mazda MX-5
Touring 4: Ross Murray; Marina Del Rey, CA; Cal Club; Mazda RX-8
2019 Hoosier Racing Tire SCCA Super Tour schedule
Date: Track; City (Conference; Host Region)
Subject to Change
Jan. 11-13: Sebring International Raceway; Sebring, Florida (Southeast Conf., Central Florida Region)
Feb. 8-10: Circuit of the Americas; Austin, Texas (Southern Conf., Lone Star Region/Southwest Division)
March 15-17: Michelin Raceway Road Atlanta; Braselton, Georgia (Southeast Conf., Atlanta Region)
March 30-31: Hallett Motor Racing Circuit; Jennings, Oklahoma (Mid-States Conf./Southern Conf.; Ark Valley Race Group)
April 12-14: VIRginia International Raceway; Alton, Virginia (Northeast Conf./Southeast Conf., North Carolina Region)
April 26-28: Buttonwillow Raceway Park; Buttonwillow, California (Western Conf., Cal Club Region)
May 18-19: Portland International Raceway; Portland, Oregon (Western Conf., Oregon Region)
May 31-June 2 (Date Subject to Confirmation): Mid-Ohio Sports Car Course; Lexington, Ohio (Northern Conf., Ohio Valley Region)
June 14-16: Road America; Elkhart Lake, Wisconsin (Northern Conf., Chicago Region)
June 21-23: Watkins Glen International; Watkins Glen, New York (Northeast Conf., Glen Region)
July 26-28: WeatherTech Raceway Laguna Seca; Salinas, California (Western Conf., San Francisco Region)