Sebring, Fl (11 November 2018) – It was a $50,000 pass for Nathanial "Sparky" Sparks when the 2016 Idemitsu Mazda MX-5 Cup presented by BFGoodrich champion made a last-lap move on his Sick Sideways teammate Drake Kemper to win the second race of the 2018 Mazda MX-5 Cup Challenge at Sebring International Raceway on Sunday.
Sparks' win, teamed with his fourth place finish in Saturday's race, saw him emerge from the two-race Mazda MX-5 Cup Challenge with the $50,000 prize from Mazda.
Kemper finished second in the race to claim Mazda's $20,000 Challenge prize as Sick Sideways swept the podium, with 2018 Mazda MX-5 Cup Rookie of the Year Selin Rollan racing from sixth on the grid to third at the finish line.
2018 Mazda MX-5 Cup Champion Nikko Reger (Slipstream Performance) finished fourth, while Atlanta Speedwerks driver Todd Lamb took a hard-fought fifth at the finish.
The 45-minute race ran under green flag conditions from start to finish and once again came down to the closing moments of the event before a winner was decided.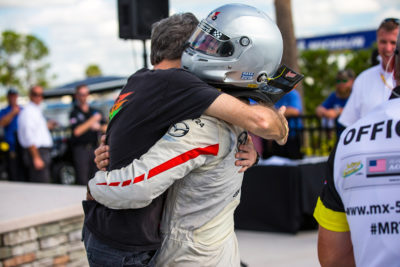 John Dean II lead from the pole for the second consecutive race as he and Race #1 winner, 2018 Mazda MX-5 Cup Japan Champion Yuui Tsutsumi (Tby2 Cabana Racing), did battle for the lead. Side to side contact between the two sent Tsutsumi spinning briefly off course as Dean was deemed responsible for the tight quarters incident and had to serve a drive-through penalty.
Andy Lally (Atlanta Speedwerks) moved to the lead on lap five, holding the point for five laps as the field fought behind him. Kemper made his surge to the point on lap ten as Lally had to take to pit lane to address a mechanical issue. A three way scrap between Rollan, Kemper and Sparks in the final laps saw "Sparky" take the lead on the final lap to score the win and the big prize from Mazda.
"Starting eleventh, we didn't have the best starting position," said Sparks. "Last night, Sick Sideways worked late, putting cars on the scales and getting them dialed in. The Mazda platform is such a strong out-of-the-box car, its comfortable, you can run laps, you can run laps hard on the BFG tires, they don't let you down. Throughout the race we were bumping and grinding—I don't know how many times I lost two or three positions just from something simple like not shooting a gap – and then everyone else did! So I was glad to come out where I did, racing my teammates, and no holds barred on that one. We were out there racing them like anyone else, there's respect for each other but we are driving hard, and I come to race and with my teammates I give them no room and they give me no room."
After a promising run out front late in the race, Kemper was hoping to claim the big prize but was still enthused to have had such a big battle for the win.
"That was such a good race," said Kemper. "Sparky is a racer, man. It was clean, it was respectful, but it was fun. I led for five laps and my car felt awesome but when the draft is there, you can only defend so much. I tried but he threw an awesome, awesome pass on me. What a race! A Sick Sideways 1-2-3 is how it should be at Sebring."
Following his frustrations from a disappointing Race # 1 on Saturday, Rollan was happy to salvage a trophy and champagne shower after Race #2 with his run to third.
"It feels great to end the year on a high note," said Rollan. "Yesterday wasn't the best, but just to get this podium sweep with my team Sick Sideways is amazing. I think we missed out on the money by a little bit, our result yesterday caused that, but it was amazing. Once I saw the space behind us I knew that we were going to race hard but we had the chance to sweep the podium for the team."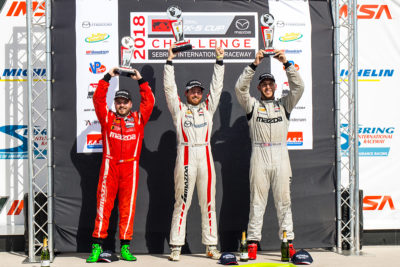 Sick Sideways principal John Dean II claimed the final $10,000 payout from Mazda after making a gritty recovery run to tenth for third in the event standings.
"This was one of the biggest emotional roller coaster race weekends that I've ever had," said Dean. "Yesterday, I was more bummed I think than I've ever been (after losing out on the win). I felt really defeated. Today, the car felt really good. Yuui (Tsutsumi) made a good move on me, but he didn't leave any room for me to be there. The nature of the track there, the road goes away, left, right, left and I had nowhere to go. He was there and we got together. It was really unfortunate for both of us. I feel bad about it and I am sure he feels really bad about it. As a team, we had three Sick Sideways drivers on the podium and we swept the event. For me, I'm going to leave happy. Even though I lost, my team won so it feels like a victory still."
The Challenge closes out a fantastic 2018 season of competition for the Idemitsu Mazda MX-5 Cup presented by BFGoodrich. With an updated Mazda MX-5 platform being introduced in 2019, a strong schedule of events that will be announced soon, and an outstanding paddock of competitors, the series is already looking forward to the 2019 season.