After winning the Toyo Tires Classic at COTA, Steyn came into the SCCA Runoffs with what he believed to be the best car in STL
The 2017 SCCA National Championship Runoffs at Indianapolis Motor Speedway was one of the low points of Danny Steyn's career. He was disqualified for a non-compliant car in Spec Miata and he didn't complete one lap in the Super Touring Lite race. For the 2018 Runoffs at Sonoma Raceway, though, he came in on a high – he was declared the winner of Spec Miata at the NASA Championships, and he believed he had the car to win STL at the Runoffs. He was right.
Steyn dominated the Runoffs proceedings. He didn't set fast time on the first day, but by the end of qualifying he had the STL pole by almost a second. He set the fast lap in the race – a new track record – then pulled away for a 13.644sec margin of victory over fellow NC MX-5 driver Craig McHaffie for a Mazda one-two. Much of that came down to tire choice and strategy.
"We made the decision to attend the Runoffs at Sonoma based on the fact that we thought the STL car had a really great shot at winning," Steyn explained shortly after the STL win. "I wasn't really crazy about coming here for Spec Miata, because I knew I'd be on the back foot against some really fast guys who knew the track well. I always thought it would be a long shot for me to even be on the podium here. As it was, I was like a10th-place guy. We got t-boned the first day of practice – a guy dropped two wheels in Turn 10, went across to driver's right and then got catapulted from the tire wall into the side of my Spec Miata. That started off day one of testing. And then on day two of testing, we blew the engine in the STL car. Fortunately, we had a spare."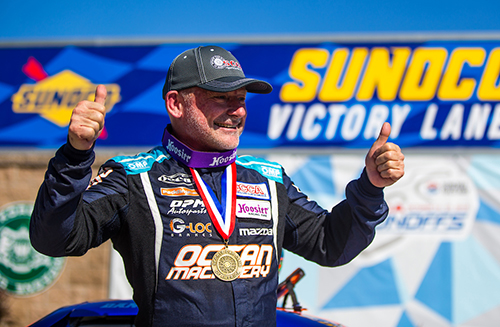 Steyn had had some other issues with the STL car over the years, but he stuck it out and he's glad he did. "We had a feeling that our car would be perfectly suited for this type of track. It's twisty and winding and I do like to throw things around and I like the tail to drive the car. I like to drive with the throttle rather than the brake or the steering wheel, and this track really suited our car. From day one we were quick."
With two third-generation MX-5s up front, it clearly wasn't all down to the car, as McHaffie couldn't hang with Steyn. Some of that gap at the end was clearly Steyn, but some of it also came down to tire selection. Steyn went with the immediately-fast-but-less-durable Hoosier A7, while McHaffie chose the R7, which tends to have more life at the end of the race.
"He chose to go on scuff R7s, because they're more durable," Steyn explains. "But they don't quite have that hero lap in them. I made the decision to go on sticker Hoosier A7s, because I thought I could get two hero laps out of it and put enough of a dent between me and anybody else behind that they wouldn't have a sniff on my tail. Tow is important, and if somebody feels like they've got a shot at it, they fight a bit harder. So my idea was to break their back in the first two laps, and that's what happened. Then I was able to really dial it back and manage the tires."
With two championships in a single season, Steyn would technically be able to go for the Mazda Road to 24 Shootout that awards a drive in the Idemitsu Mazda MX-5 Cup to the winner. But, he notes, he's not really the type of driver the program is engineered to find.
"As much as I adore Mazda for the things they do, I don't think at 60-years old I'm really what they're looking for in terms of their driver development program. I'd love to go and attend, but honestly they need to give my spot to a younger, talented driver," he laughed in the post-race Runoffs interviews, at which point McHaffie sat up and volunteered to take Steyns' spot.
Steyn, though, will happily keep competing in club racing, both in Spec Miata and in STL.