Mazda racer clinched the NASA Spec Miata Championship before dominating Super Touring Lite at the SCCA Runoffs
On the first day of SCCA Runoffs qualifying, Danny Steyn was happy to have won Spec Miata at the NASA Championships at Circuit of the Americas, even if it didn't happen the way he would have liked. At the same time, he was saying that someday, if he were good enough, he'd have an SCCA title as well. That someday was five days later.
Danny Steyn scored a rare double championship, with two different organizations, in two different cars and classes – the Spec Miata win in the Toyo Tires Classic at the 2018 NASA Championships, and the Super Touring Lite victory at the SCCA National Championship Runoffs at Sonoma Raceway. And he did it all in his 61st year on Earth.
"February 24th of this year, I turned 60 and I made a public statement on Facebook that I wanted to win a Majors or Hoosier Super Tour race in Spec Miata at the age of 60," the South African-born Florida resident said at the Runoffs. "The following week I won at NOLA, and then two weeks later I won at Road Atlanta. Somehow I won the NASA Championships at the age of 60, and three weeks later, here I am on the top step of the podium. Let me say that 60 is a pretty awesome year to be in!"
Steyn's first championship of 2018 came at the NASA Nationals. He finished second on the track to Chris Haldeman – whom he still gives high praise for his run to the front from 21st – but Haldeman was caught up with several other drivers with remanufactured axle bearing cages that were deemed out of compliance. Steyn was awarded the victory after the fact.
"It's one of those bittersweet victories," Steyn says. "In my mind, I didn't win it on the track. I was fortunate enough to have a compliant car that got me through tech, and some of the other guys didn't. I certainly don't believe that anything they had was the difference between me winning or them beating me. So my heart goes out to them. It's tough to get tossed for an infraction. I've been there myself, and it eats at you for the rest of the year. But I suppose in a way it's a bit of a vindication for what happened at the Indianapolis Runoffs a year ago, when something I don't think had anything to do with me running in second place was enough to get me tossed. I had to wear that badge of dishonor for a year, and it was really tough."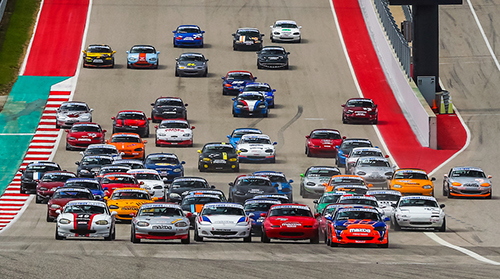 Steyn notes that starting third on the grid at the NASA Nationals this year, he was surrounded by much younger drivers; the rest of the front two rows was comprised of drivers 18 and under. "The fact that at this age, I still have the mental acuity and sharpness to compete with these guys is what really keeps me interested, and I'm going to keep doing this as long as I'm competitive," Steyn says. "It's keeping me in shape, physically. I work out a lot; I'm very careful about what I eat."
His proudest moment, though, actually came in the SCCA U.S. Majors Tour race at Road Atlanta. Not so much that he won, but at the end of the race, on worn tires, he turned the fastest lap he had ever posted at Road Atlanta.
Steyn thanks Tom Fowler at OPM Motorsports; engine builder Mike Rossini; Danny and Chris Puskar from G-Loc brakes; and especially his wife Kim for helping win the NASA SM championship. He says that it's especially gratifying with the large and deep field that the event and the big prize money on offer from Toyo attracted.
"I think the minute that NASA and Toyo Tires announced they were doing this – I think it's the richest prize money in amateur racing – it got everybody's attention," he says. "You always want to be on the grid among the deepest field, and sometimes when we've had these split NASA championships, East and West, you know that there's a few guys who might be in the hunt and they're not there. But we knew that everybody that wanted to be there was going to be there – the very best in the country."
The NASA field was jumbled by rain during qualifying, meaning Steyn had a breather over some of the fast guys who got mired in the back like Jim Drago and Preston Pardus. Except for Haldeman, they weren't there to challenge. "Chris drove the most amazing first few laps to get into the hunt immediately, and he was there all the way to the end. He drove one hell of a race. I consider him a good friend and very deserving of the win on the track," emphasizes Steyn.
But eventually the win went to the guy who finished second. One championship in hand, Steyn turned his attention to the SCCA National Championship Runoffs at Sonoma.