Long Road Racing completes trouble-free day of testing with first 2019 MX-5 Cup car
IRVINE, Calif. (October 26, 2018) – Long Road Racing began preparations for the 2019 Idemitsu Mazda MX-5 Cup presented by BFGoodrich® Tires season by completing its first day of testing with the new, 2019 Mazda MX-5 Cup car on Thursday.
Long Road Racing's objective for the first day of testing WAS to ensure that all systems functioned properly on the new car, which is outfitted with the 181-horsepower, 7500rpm engine now available in the Mazda Miata, and that all the racing components performed consistently compared to first generation MX-5 Cup race car.
Tom Long, the chief development driver for the MX-5 Cup car, completed 70 laps of the challenging 3.27-mile Virginia International Raceway circuit on Thursday.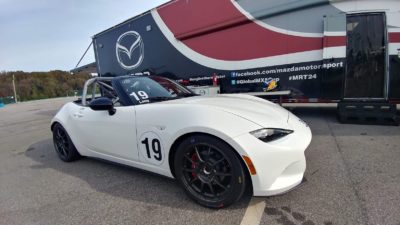 "The new 2019 Mazda MX-5 Cup car is sure to please the racers," said Long. "The additional power from the new SKYACTIV® 2.0L engine is noticeable right away, pulling hard all the way to its new, higher redline. I think the current MX-5 Cup car owners will enjoy the upgrade. It has the same great chassis and handling characteristics, but now with an added punch and a larger, more usable rev range."
Additional testing for the new car is scheduled. The 2019 MX-5 Cup car is available exclusively from Long Road Racing. Based in Statesville, NC, Long Road Racing is a race car design, fabrication and build company specializing in sports car racing. Current owners of the MX-5 Cup car will be able to purchase upgrade kits for their cars from Mazda Motorsports.
Contact Long Road Racing at www.longroadracing.com or (980) 223-8547.