Qualifying for the SCCA National Championship Runoffs produces a host of fast qualifiers in Mazdas
Three days of qualifying have wrapped up at Sonoma Raceway for the 2018 SCCA National Championship Runoffs in 28 different classes. Of the 16 classes where Mazdas are entered or make up the field, 10 drivers with Mazda power will be starting on pole for the races that take place over the Oct. 19-21 weekend.
Mirl Swan took the pole for what will be the final race of the weekend, Formula Atlantic. Swan took his Swift 016A Mazda to the fastest time in Wednesday's fashion, edging Spencer Brockman by less than a tenth of a second. Brockman set his best time in the first session on Tuesday. In Formula Mazda, Bryce Cornet will start on pole, with Mike Anderson alongside. 2017 champ Melvin David Kemper Jr. will take the green in third.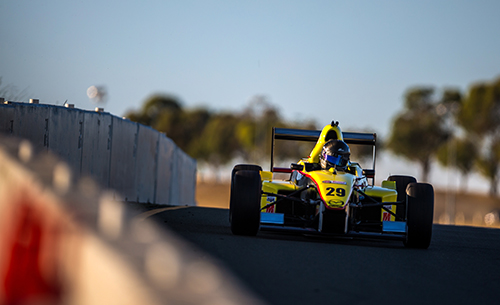 Formula Enterprises and Formula Enterprises 2 qualified and will race together. Liam Snyder lost out on the pole in FE2 to Flinn Lazier, son of 1996 Indianapolis 500 winner Buddy Lazier; but his brother, Mark, will start on the pole for FE. Brandon Chappell will start outside the front row in FE.
Mark Drennan was the favorite to take the pole in Spec Miata, but even he feared Ken Sutherland and his '91 Miata could be a threat. Drennan will instead start on the outside front row after missing the top spot by 35-thousandths of a second. In Touring 4, Gresham Wagner proved himself a quick learner when it comes to Sonoma Raceway, leading every session and scoring the pole for Saturday's race.
The same was true for Danny Steyn. Steyn had some misfortune in testing when his Spec Miata made contact with a car that had left the track and bounced off a tire wall, but his Super Touring Lite MX-5 has proven the class of the field so far. Craig McHaffie qualified second to make it an all third-generation MX-5 front row.
Local knowledge seemed to help in a few classes where West Coasters were fastest. Californian Michael Lewis took the pole for GT-3 in an RX-7. Glen McCready, from nearby Redwood City, Calif., beat Matt Reynolds to the pole by about 0.2sec to make it an all-MX-5 front row. Aaron Downey will start third in his RX-3. And while not a Californian, Las Vegas resident Todd Slusher certainly has experience at Sonoma and used that to put his Elan DP02 Mazda on point in Prototype 1.
All races at the 2018 SCCA National Championship Runoffs will be streamed live at scca.com.
SCCA National Championship Runoffs
Sonoma Raceway, Sonoma, Calif.
Oct. 16-21, 2018
Provisional Mazda Polesitters
Class: Driver; Hometown; Car (listed in race order)
Formula Mazda: Bryce Cornet; Norman, Okla.; Star Formula Mazda
Formula Enterprises 2: Flinn lazier; Vail, Colo.; Van Diemen Mazda FE2
Formula Enterprises: Mark Snyder; Southlake, Texas; Van Diemen Mazda FE
Spec Miata: Ken Sutherland; Sherwood, Ore.; 1991 Miata
Touring 4: Gresham Wagner; Williamsburg, Va.; 2009 MX-5
E Production: Glen McCready; Redwood City, Calif.; MX-5
Prototype 1: Todd Slusher; Las Vegas, Nev.; Elan DP02 Mazda
Super Touring Lite: Danny Steyn; Fort Lauderdale, Fla.; MX-5
GT-3: Michael Lewis; Poway, Calif.; RX-7
Formula Atlantic: Mirl Swan; Brownsburg, Ind; Swift 016 Mazda