Mazda power will push several Formula and Prototype competitors to the podium at the 2018 SCCA National Championship Runoffs at Sonoma Raceway
As in many classes at the 2018 SCCA National Championship Runoffs, a local is among the favorites in Formula Enterprises 2. Among the contenders, all driving Mazda-powered Van Diemen Formula Enterprises cars, Jim Devenport stands out. Not only did the Modesto, Calif., resident win the June U.S. Majors Tour races at Sonoma Raceway, but he's proven himself quick by virtue of two championships in Prototype 1. SportsCar magazine picked him to win, going against the usually easy choice of Scott Rettich, but the edge often goes to the local, especially when it comes to a track like Sonoma. Brandon Aleckson is another fast semi-local, but he skipped the June event, so what he'll do at Sonoma is uncertain. There are a lot of other strong contenders in this class, including Paul Schneider, Flinn Lazier, Thomas W. Burt and Liam Snyder, so it could be quite the contest.
Since FE and FE2 will be running together at the Runoffs, drivers had to choose one or the other, with some choosing late in the game. Consequently, SportsCar's top two picks for FE are either running FE2 or not entered at all. The magazine's third pick was Californian John Yeatman; but Brandon Chappell edged him out for the win in both of the Sonoma Majors races in June. It's likely these two will be fighting at the top, or at least for the podium, with Mark Snyder and Quinten Nelson right there.
Formula Mazda will likely go to a West-Coaster as well. Mike Anderson won at Laguna Seca in 2014 and has a solid shot at it again this year. Last year's champion, Washington resident Mel Kemper Jr., had a race-long battle with Anderson at Indy in 2017 and should be in the hunt again in 2018. But few know this track as well as Bill Weaver, and he's almost a sure bet to land on the podium. Of those coming from points east, look for Texan Jarret Voorhies or Oklahoman Bryce Cornet to spoil the West Coast party.
Many strong contenders for the Formula Atlantic title from the East Coast won't be making the trip to California, including last year's top two. Who was third? Spencer Brockman in the unusual combination of a Swift 014 and Mazda powerplant. Two drivers will be bringing Star Pro Formula Mazdas to the party, Paul Ravaris and Jay Horak.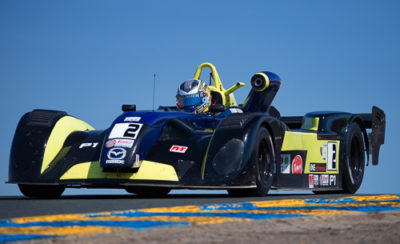 Darryl Shoff has worked his Prototype 1 Elan DP02 into a real contender in the class, and it's probably the best DP02 around. The East Coaster's disadvantage is that he may not be as familiar with Sonoma Raceway as others. Certainly, he doesn't have the knowledge that Todd Slusher has. Slusher had a good battle for the win and set fastest lap before finishing second on Sunday at the June U.S. Majors Tour race at the track. Chip Romer finished second on Saturday in his DP02 and could be a contender for the podium as well.
Motorcycle-engine cars have long been the dominant force in Prototype 2. But the last time the Runoffs was in California, at Laguna Seca in 2014, David Ferguson put his Mazda-powered Van Diemen on the podium. This year at Sonoma, he probably has the best opportunity to put a Mazda on the podium again.
All Runoffs races are expected to be livestreamed on scca.com. Formula Mazda will be the first of these classes for the weekend, at approximately 2:35 p.m. Pacific time on Friday. FE and FE2 follow later that day at 4:45 p.m. Prototype 2 races on Saturday morning at 9:35 a.m., while Sunday features P1 and Formula Atlantic – P1 at 10:40 a.m. and Atlantic wrapping up the 2018 Runoffs at 4:45 p.m.