Teenager Robert Noaker is having a stellar MX-5 Cup season, and his mother is cool with that
As the youngest driver in the Idemitsu Mazda MX-5 Cup presented by BFGoodrich® Tires, Robert Noaker's parents are always along for the ride. Bob and Katie Noaker have nurtured him along the way, wrenched on his karts and cars and coached him into a driver capable of winning in a professional series.
Robert's results indicate they've done a good job, too. Heading into the finale doubleheader at Monticello Motor Club this weekend, he's sitting seventh in points, ahead of a couple former champions. In most seasons, that performance, which includes a win at Mid-Ohio, would make him a lock for Rookie of the Year; unfortunately, he came into the series the same year as Mazda Road to 24 Shootout winner Selin Rollan, and Selin sits a single point out of the championship lead. Still, Robert clearly has what it takes to do so much at 14-years old.
"We always thought he was a good racer," says his mother, Katie. "When he raced karts, we thought he was better than the other kids – he didn't win every race, but my husband worked really hard with him on his racecraft and how to race. When he went to Skip Barber and did his three-day school … after watching for five minutes, I thought, 'This is scary. He's not doing great.' But when we went to the first race, the coaches were telling Bob that he's really good."
The Noakers next found NASA and went Spec Miata racing. After a year of that, it was time for the next step. And with that, Katie's role has changed.
"My role through the years … was working on the karts alongside his dad," she says. "At one point he was running three classes, so we had to have it down to a science how we prepared the karts so we didn't grab the wrong one.
"Even when he raced Spec Miata, I would wrench on the car," Katie continues. "Now I make sure he gets his schoolwork done, help on the car when I can, download video and data, and stuff like that."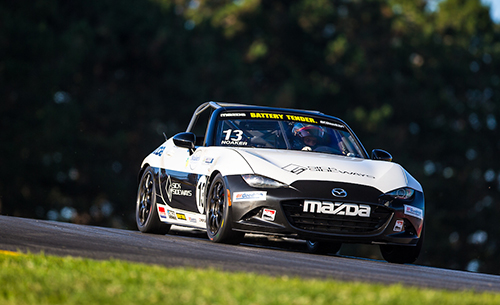 Katie has been around racing for years; Bob was racing karts when they started dating. But she admits she still gets nervous at the starts when so many racers are going for the same spot, or when someone spins in front of Robert. But her involvement over the years has probably made her much calmer than a lot of racing mothers, she notes.
Even though she knew Robert was good, she admits to being shocked when Robert won his first MX-5 Cup race only seven rounds into the season. And her saying so upset Robert. "I explained to him that I always thought he could win, I was just surprised he did it so quickly. How many guys have been in this series for years and haven't won a race, or it took them years to win a race?" she asks.
All in all, she thinks her son has had a phenomenal season for a rookie, never mind a 14-year old. She says she came into the season hoping he could run top 20 to mid-pack. Instead, he has a win, a top five and several top-10 finishes. But that doesn't get him out of doing his schoolwork; fortunately, his teachers are on board with his racing career and work with him. Mom's not cutting him any slack, though.
"Even though he's won a pro race, he still has to take the trash out and do the dishes and the laundry," she says. "He still has his normal 14-year old chores."
Spoken like a true mom.