Part 2: Paddock and podium. Mazda Motorsports' photographer Alison Arena offers some tips on improving racetrack pictures
In the first article on improving your photography at the racetrack, we presented Mazda Motorsports' photographer Alison Arena's thoughts about getting better action photos. But there are a lot of great photo opportunities that happen off track as well. It could be podium photos, a shot of a winning driver with a trophy or just the work and fun that goes along with a racing weekend.
Everything with photography starts with the light. Typically the earlier or later you can take photos, the better. This is especially true with cars, as the sun's reflections can be difficult. In fact, if you're taking a photo of just a car – no people – you can even wait until after the sun sets (or start before dawn). With the sun below the horizon, there will be no harsh reflections off paint, glass or chrome. For these photos, a tripod to keep the camera steady will come in handy because you'll need longer exposure times.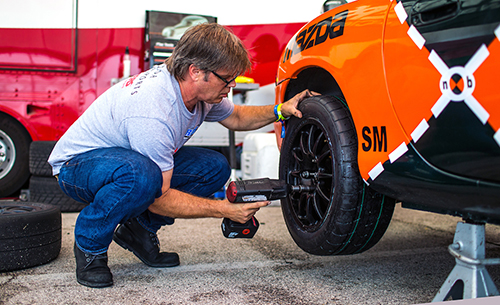 Also with light, the general rule is to have the sun behind you, although behind and a little to the side is usually better. But while it's a general rule, it's not hard and fast.
"A lot of photography is having the light in the right position," Arena says about both on- and off-track photos. "There are rules – you're supposed to have the light behind you – but a large part of photography is breaking the rules. If you can have the light on different areas of the car, you can showcase the time of day – racing doesn't happen only at one time of day."
That includes the podium ceremony. If friends or family end up on the podium, you'll want photos. But you can't control the light in that situation without adding some (which can be done with an on-camera flash, useful even in the middle of the day to add light to shadow areas such as a person's face when they're wearing a hat). What you can control is whether you shoot straight on or try a different position.
"I'm a big fan of alternate angles," Arena explains. "If you are always standing upright, try shooting lower or higher. If the podium is dead center in front of you, try moving all the way to the left or right. Do the option that's not what you'd normally think of; I get some of my favorite shots that way."
The last bit of advice she has to offer is to practice, practice, practice, and don't feel like you're limited by your camera, or even the lack thereof.
"Don't feel like you're handicapped by the equipment you have," she notes. "Even a cell phone can create a really cool photo if you spend enough time and really think through a cool way to create something a little bit different."