Haldeman earned a big payday along with the title of NASA Spec Miata Champion; Peter Ensor wins Teen Mazda Challenge class
After all the anticipation and preparation of the Toyo Tires Classic at the NASA Championships presented by Toyo Tires, the Spec Miata race came down to speed, skill and little local knowledge as Chris Haldeman provisionally claimed the big prize and the title of NASA national champion.
Despite setting fast time on Friday, Haldeman qualified poorly Saturday morning and found himself starting 24th in a field of 60 cars. The poor starting position must have motivated Haldeman because he climbed up more than 15 spots on the first lap and set his sights on the leaders, Danny Steyn and Todd Buras.
"When that green flag came out, I just dropped the hammer," Haldeman said. "I think we were like seventh or eighth on the first lap and then we closed in. All I had to do was keep from vomiting in my helmet and this race was going good – I've been sick all week. I've been battling a cold. I'm just glad to get it done."
Danny Steyn led the early laps and even broke out to a one- or two-car lead for a while, but he couldn't hold off Buras, who took over the lead on lap seven. Buras held the lead for another lap, but ran wide at the exit of Turn 12, and Haldeman pounced.
"It was a shootout – best racers in the country," Buras said after the race. "By the exit of [Turn] 3, I was behind Danny Steyn and I was going to push him a little bit, and he slipped a little, so I took the lead and ran for a while in the lead. Then I looked in the mirror and here comes Chris."
Haldeman may have taken the lead, but Buras wasn't about to give up without a fight. Buras badgered Haldeman every chance he got, presenting for a pass and even getting a nose up on him several times in the second half of the race, but Haldeman was determined.
"Every battle with Todd, that man is an animal," Haldeman said. "He'll put it anywhere, anywhere! We never touched each other in everything you saw. We were off track together. We never touched each other. It was just clean and fast."
Steyn slipped back to third, and with some help from fourth-place finisher Brian Henderson, managed to stay within striking distance, but was never able to recapture the lead and finished third.
"I had the better qualifying position, but [for Haldeman] to come from [24th] to first is the stuff of legend," Steyn said. "That really will go down as one of the greatest drives in club racing for years. That's how good it was, especially after how bad he's been feeling. He's been ill and everything. He put on a great show. I was kind of hoping that Todd and I would work together to get past Chris, but people choose the faster car and I wasn't quite with them. I was just a little bit off."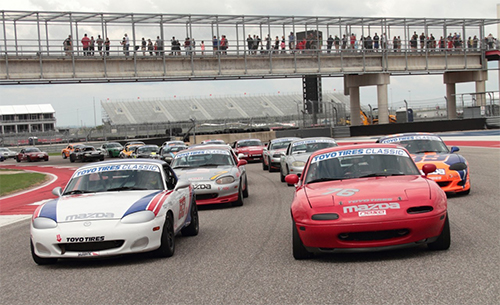 Nine Teen Mazda Challenge racers staged their own race within the Toyo Tires Classic to see who the standouts are among NASA's youngest up-and-coming drivers. When the dust settled, Peter Ensor had finished first in Teen Mazda Challenge and sixth overall, a finish that netted him $2,500 in prize money.
"I was trying to stay clean at the start, but that didn't work. That was out the window in Turn 1" Ensor said. "I was on the outside and somebody came into me in Turn 1. I lost a few spots, and then it was just a battle for 45 minutes to try to get back toward the front."
In Saturday morning qualifying, the rain was coming down, but that was just the thing Matthew Dirks needed to score overall pole position for the Championships race and, of course, first in Teen Mazda Challenge. Running one of the only first-generation Miatas in the front of the field, Dirks didn't get a good start in the Championship event and lost several spots straight away. But he held on to finish second in Teen Mazda Challenge.
Behind Dirks, third-place finisher Hannah Grisham had struggled all weekend long, but found some speed in Saturday morning's qualifying session. More time on the track helped Grisham navigate the 20-turn Circuit of the Americas, and her Morningstar Racing crew chief James Brown gave her the car she needed.
"I went into the first turn and my plan was to just stay on the outside and let everyone else do the chaos on the inside," Grisham said. "So that worked out pretty well for me. I got around some people, and then in the Esses, I got hit a little bit, but it wasn't bad.
"It was a good race, and I'd like to thank Mothers, Morningstar Racing, Dr. Hunt Chiropractic Health Center, my parents and my sister and, of course, Mazda and NASA and Toyo for this great event."
All results are provisional pending the completion of tech inspection.