Bomarito will start sixth in Mazda RT24-P in his home track
MONTEREY, Calif. (September 8, 2018) – The pair of Soul Red Crystal Mazda RT24-Ps came away from Saturday afternoon's ultra-competitive qualifying session at WeatherTech Raceway Laguna Seca in sixth and eighth position in IMSA's Prototype class.
In the No. 55 Mazda RT24-P, Jonathan Bomarito, who attended nearby Palma High School in Salinas and is a former driving instructor at Laguna Seca, qualified sixth for tomorrow's Continental Tire Monterey Grand Prix. Underscoring the competitiveness of the Prototype field, the top seven cars set times within one second with Bomarito's time of 1:16.792 less than a tenth behind the second-placed car. Harry Tincknell will share the Mazda with Bomarito tomorrow.
In the No. 77 Castrol/ModSpace Mazda RT24-P, Oliver Jarvis qualified in eighth position. In the third practice, Jarvis had set the second-fastest time in the car that he will share tomorrow with Tristan Nunez.
The Continental Tire Monterey Grand Prix will be shown live on FOX Sports 1 on Sunday, September 9 at 5:00 PM ET.
Quotes
John Doonan, Director, Mazda Motorsports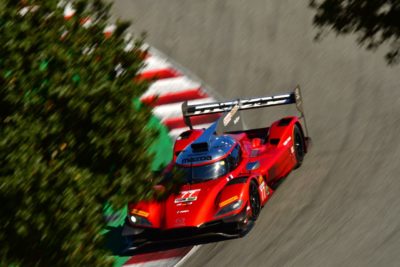 "After a challenging first practice session, we worked hard together with the two cars to make progress on the setup. This morning was a great example of how Mazda Team Joest works together, with both cars near the top of the charts. Qualifying was tough, certainly, but we are confident in the car and the drivers for tomorrow's race."
No. 55 Mazda RT24-P
Jonathan Bomarito
"We were expecting to be better than sixth, but more importantly, I think we have a good race car for tomorrow's race. Tire degradation is a big factor in races here, but I think we are on the better end of that than our competition but it's hard to say for sure until we get into the race. This is a very busy race – there's not a lot of straightaways and there's a lot of traffic with three classes out there. Physically and mentally, it's a tough race. For me it's also a home race. What we get to do is very unique and special, and not everyone gets to have a career like this, so I really enjoy getting to share that with all my friends and family who will be here."
No. 77 Castrol/ModSpace Mazda RT24-P
Oliver Jarvis
"This morning started really well. The team made a huge step overnight with the balance and we ended that last practice session in second place. So, we went into qualifying full of confidence, but for some reason the car was completely different, and I couldn't extract the maximum from it. I don't think we had enough for pole, but I'd like to think we would have been in the fight for a top five. But we know we have the speed in the car and we'll have to find every opportunity to make our way to the front of the field."