SportsCar magazine has released its picks to win the 2018 Solo National Championships
Each year, SportsCar magazine, the publication for Sports Car Club of America members, does its best to name the top candidates for winning each class at the SCCA Solo National Championships held at Lincoln Airpark in Lincoln, Neb. This year's list includes more than a dozen Mazda drivers as top picks, with many more noted as contenders.
In C Street, where about 80 percent of the entries are driving fourth-generation Miatas, John Hunter is the magazine's pick to win, but Dave Ogburn III, Rick Cone, Andrew Pallota and D.J. Allesandrini are referenced as contenders, with newcomer to the class Darren Seltzer also getting a comment. In C Street Ladies, Tara Johns gets the nod, with Maria Mayorga also mentioned as someone to watch.
E Street is the home for the NA and NB Miatas in near-stock trim, and previous SCCA national champion Bartek Borowski is the top choice for winning the class in a '99, although co-driver and defending champ Michael Ron is a contender as well. Others mentioned were Charles Matthews, Matt Waldbaum and Andrew Canak.
The majority of the picks to win are driving the well-known Miata roadster, but there are many other Mazda models competing, and two women are picked to win their class in Mazda sedans. Laura Harbor is predicted to win G Street Ladies in a Mazdaspeed3; in fact, SportsCar calls her "near unbeatable." In E Street Prepared Ladies, dominated by pony cars, Johanna Foege is picked to win in Clint Griest's Mazdaspeed6. Griest is mentioned as having a chance in the Open class as well.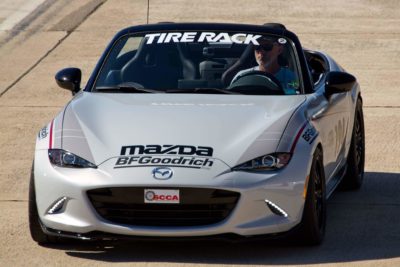 The rest of the picks, though, are in some form of Miata. That includes Street Touring Roadster, both Open and Ladies. Last year's C Street champ, Daniel McCelvey, is the pick to take that one, but Jonathan Lugod, David Marcus, Mark Dudek, Marcus Pyne, Ryan Davies and Mark Shrivastava are all mentioned as contenders. SportsCar's top pick for the Ladies class, Laura Campbell, isn't on the entry list. Their second choice, Jessica Pao, is entered with a 2016 MX-5, though. In Street Touring Sport, David Whitener and the family '92 Miata get the nod after coming oh-so-close last year.
The Mazdaspeed Miata has been one of the dominant cars in B Street Prepared, and Anthony Porta and Chris Edens will be likely contenders in theirs. But SportsCar believes that it's time for the ND Miata to win in the class, and they think Ron Bauer is the man to do it. The magazine declined to make a call in BSP Ladies, perhaps because it seemed likely that there wouldn't be enough entries to a make a class, but there are four of them, and all are in Miatas. Billy Davis and his '99 are the pick to win C Street Prepared, no surprise given his domination of the class in recent years.
Randall Wilcox is named to repeat in Super Street Modified in Eric Anderson's Miata, although Jake Namer is mentioned as a contender in his RX-7. Todd Roberts was picked to win D Prepared in his 1990 Miata.
The Tire Rack SCCA Solo National Championships take place Sept. 4-7. About half the classes will tackle the two courses on Tuesday and Wednesday, with the other half competing on Thursday and Friday. Look for a full report on how Mazda drivers did on MazdaMotorsports.com.
Mazda Drivers predicted to win the Solo Nationals
C Street: John Hunter, 2016 Miata
C Street Ladies: Tara Johns, 2016 Miata
E Street: Bartek Borowski, 1999 Miata
G Street Ladies: Laura Harbor, Mazdaspeed3
Street Touring Roadster: Daniel McCelvey, Miata
Street Touring Roadster Ladies: Laura Campbell, Miata (Jessica Pao, Miata)
Street Touring Sport: David Whitener, 1992 Miata
B Street Prepared: Ron Bauer, 2016 Miata
C Street Prepared: Billy Davis, 1999 Miata
C Street Prepared Ladies: Katie Lacey, Miata
E Street Prepared Ladies: Johanna Foege, Mazdaspeed6
Super Street Modified: Randall Wilcox, 1996 Miata
D Prepared: Todd Roberts, 1990 Miata