As September approaches, Tamra Hunt is putting the finishing touches on her Mazda RX-8 before loading it up at her home in Middlefield, Conn., for the drive to Lincoln, Neb., where she will attempt to win her third SCCA Tire Rack Solo National Championship.
This will be her second time competing for SCCA national championship win number three in the car that she has built, and rebuilt, herself alongside fiancé Andrew Krystinek.
"Last year was our first year with the RX-8 [and first attempt at building her own competition car]. It was a development year and we had some outside help," says Hunt, who ended up finishing in second place, a meager three-tenths-of-a-second behind the winner. "This year, I wanted to take it to the next level."
That meant doing it all on their own without the benefit of outside assistance – and they did a lot.
"We started the season by changing pretty much everything," she explains. "We added bigger tires on wider wheels, so that meant modifying the fenders. We also changed the spring rates and lowered the ride height with all new alignment settings. All of that we learned to do on our own."
On top of that, Hunt adjusted the swaybar settings and installed a new differential.
She admits there was plenty of guesswork involved. Hunt is a certified public accountant, which makes her good with numbers and process. Krystinek is an engineer whose background comes in handy when interpreting the technical bits. All guessers are not created equally.
"We hoped for the best and it actually turned out okay," she laughs. "The car's been fast and reliable so far, but the real test will come at the SCCA Solo Nationals. That's where we've put all of our effort."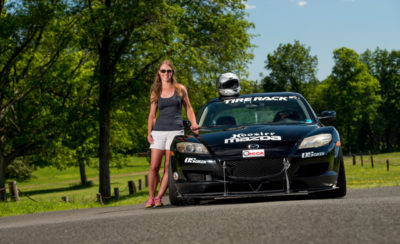 Hunt competes in SCCA's D Street Prepared class, running mostly against the men, but she's not doing this to make a statement. Rather, it's about competing for the fastest time regardless of who sets it.
"I enjoyed competing in the ladies class when I began, and I miss the camaraderie of it, " she admits. "But I want to go up against the best competitors. The only thing that matters is the clock, and the clock doesn't care what your gender is."
Hunt has never sought attention on the account of her gender, but she realizes that it comes with the territory.
"I want to be a role model to show that women can race in the sport," says Hunt with a bit of a sigh. "I'm not against the ladies classes. I think people should enter where they feel the most comfortable. In my own case, I want to prove that I am equal, and that I can earn the attention for my accomplishments."
The real lesson from Hunt's experience is less about what a woman can do than it is about what anyone can do when they apply themselves. While Hunt stresses that there have been many people along the way who have helped make her autocross journey a success, much of it has come down to her taking the challenges both of driving and of the mechanical aspects head on, side-by-side with her fiancé.
"Andrew had a little more car experience than I did when we first started, but I was the one who pushed him into autocross in the beginning," she says. "We've pushed each other and given ourselves the confidence to move forward with things. When we had to rebuild the motor on the RX-8, he wondered if we should send it out or do it on our own. I said, 'Let's do it on our own.' I pulled up all of the factory service manuals and parts lists and said, 'Let's do this.'"
The experience has extended her confidence and ability to problem-solve the new challenges in her life beyond the autocross circuit – it's also put her on a course to live her own best life. Between a recent job promotion and her wedding coming in November, preparing for the Solo Nationals fills the remaining space nicely.
"I've always believed that we should do what makes us happy, and all of our friends are part of this community," she says. "Growing up in Oregon I used to compete in equestrian, and when I moved to Connecticut, I realized that wasn't something I would be able to do. That made me really sad, but then I discovered autocross, and I was able to fill that hole in my life with something new to be passionate about."
Come the first week in September, when the best autocrossers go head-to-head, the clock indeed will not see Tamra Hunt as a women, but as a competitor – one of the fastest in the nation.
SaveSave