Maurice Velandia and his 18-year-old son Sean are getting ready for a road trip, but it's not just any road trip. For the second year in a row, the pair will compete in a fourth-generation Mazda MX-5 in the C Street Prepared class at the SCCA Tire Rack Solo National Championships in Lincoln, Neb.
Maurice, a longtime car aficionado and former hardware engineer at Intel, got his start in competitive driving through racing on a simulator. Sean, even as a toddler, would sit on his lap completely rapt as Maurice drove the sim. Then, about 15 years ago, Maurice ventured into autocross.
"I wish I had found autocross earlier," says Maurice. "What I discovered was that I really improved as a driver. I spent some years in an uncompetitive car before moving into the C Street class, and finally went to my first Solo Nationals in 2014."
When Sean was 10-years old he began competing in autocross in a go-kart at local events near his family's home outside of Sacramento, Calif. The young Velandia had a near instant knack for driving and would eventually compete in wheel-to-wheel kart races with Maurice as his pit crew, all the while continuing to compete in autocrosses. There was a time when they considered wheel-to-wheel road racing, but the commitment of time and money was exponential to what they were already investing in Sean's karting. Autocross, coming in at a fraction of the price, was just as effective at scratching their itch for speed and competition.
In December 2016, Maurice purchased a new MX-5 and the pair of them began competing in autocross together, building a father-son rivalry that they say pushes them both to be better drivers. That year turned out to be a bit of a turning point.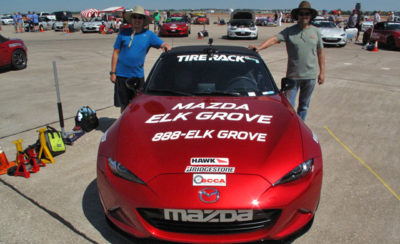 "The first national SCCA event that I went to with that Mazda [at Auto Club Speedway in Fontana, Calif.), I won," says Maurice. "That was something that I hadn't achieved before with the car I had been competing with up until then."
Meanwhile, Sean was enjoying karting, and was less enthused about autocross. "I really enjoyed the competitive nature of being on track with other racers in karting," Sean says, who is currently studying aerospace engineering at UCLA. "I thought autocross would be boring, but when I actually jumped in a real car, it was a different experience. I really liked the challenge of only getting three or four runs on a course to get the time, and I became hooked pretty quickly."
It's not only at SCCA autocross events where Maurice and Sean can hone their driving skills. The MX-5 does double duty as both the car they compete in and the car they use to enjoy the winding roads of the Sierra Nevada foothills that surround their home. The ability to have a car that is both competitive on track that can also be used year around for driving adventures only adds to the appeal of competing in autocross.
Last year was their first trip to the SCCA Solo Nationals competing together and sharing the MX-5. Sean's rookie attempt came close to netting a third-place result if not for a time penalty due to nudging a cone. Without that penalty, he would have knocked none other than his dad off the podium.
And what about the return drive home from Lincoln after this year's competition? Given their rivalry, are there going to be some long, awkward silences? "I guess it could be a long drive back home," Sean laughs. "I tend to try and look at my results in terms of how I did and what I could have done better."
"There's certainly been times when Sean's been faster," Maurice chimes in, "but I think we have the similar mindset in terms of looking at the results and determining where there's room for improvement."
But now that Sean is away for his studies, these trips take on the role of father-son bonding time, which is something Maurice relishes in particular. "Before, we were always together, working on the go-karts and going to races," says Maurice, hopeful that a new tradition is being fostered. "These trips are definitely more meaningful in that way."
Whatever the results in Lincoln this September, the Velandias will be more than all right. They know how fortunate they are to have made for themselves the life they live. A Solo Nationals trophy would just be the cherry on top.
SaveSave
SaveSave