Mazda Road to Indy and MX-5 Cup take on Mid-Ohio Sports Car Course this weekend
IRVINE, Calif. (July 26, 2018) – Four Mazda racing series will take to the the Mid-Ohio Sports Car Course this weekend, providing two days' worth of racing action in central Florida. The Indy Lights, Pro Mazda, USF2000 and MX-5 Cup championships will take part in two races each over the weekend.
In all four series, drivers are competing not only for the season championship but a Mazda Scholarship that will send them to the next step of the racing ladder.
The Indy Lights race will be broadcast on NBC Sports Network on Tuesday, July 31 at 6:00 PM ET while the MX-5 Cup races will be livestreamed on the Mazda USA YouTube Channel on Saturday, July 28 at 11:35 AM EST and on Sunday, July 29 at 10:05 AM ET.
Indy Lights Presented by Cooper Tires
The championship battle between current leader Patricio O'Ward (Mexico) and Colton Herta (United States) has taken a swing over the last three races as O'Ward, with two race victories and a second-place, has taken an 18-point lead with him to Mid-Ohio. Herta, who suffered a broken left thumb in a crash at the previous race weekend in Toronto, was forced to park his car in the second race of the weekend allowing O'Ward to build a larger gap. Third in the championship, Santiago Urrutia (Uruguay) kept himself in contention by winning the second race at Toronto.
Pro Mazda Championship Presented by Cooper Tires
What had been a runaway championship run for Parker Thompson (Canada), who held a 46-point lead before the previous weekend in Toronto, has a different picture heading to Mid-Ohio. Thompson still leads but, after a challenging weekend in Toronto, his lead is now eight points over Rinus Veekay (Netherlands) who swept the Toronto weekend with two victories. Carlos Cunha (Brazil) is third in the championship.
Cooper Tires USF2000 Championship Powered by Mazda
The USF2000 championship, and a $325,000 Mazda Scholarship that will graduate the champion to Pro Mazda in 2019, could go Kyle Kirkwood's (United States) way this weekend. Having amassed seven victories in nine races, Kirkwood arrives at Mid-Ohio with a 131-point lead and on the brink of clinching the season championship. The battle for second in the championship is being contested by three drivers separated by a mere seven points with Kaylen Frederick (United States) in second, Igor Fraga (Brazil) in third and Rasmus Lindh (Sweden) in fourth.
Idemitsu MX-5 Cup Presented by BFGoodrich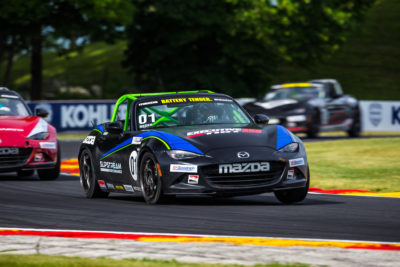 After six of twelve races, Nikko Reger (United States) has established himself as the championship leader and carries a 29-point lead into the weekend at Mid-Ohio. The next three drivers in the championship are covered by a mere five points with Bryan Ortiz (Puerto Rico) ahead of John Dean II (United States), who swept the previous race weekend at Road America, and Mazda Scholarship driver Selin Rollan (United States).