Irvine, Calif. (19 July 2018) – With three race weekends down and three to go, it's getting down to the wire as the Idemitsu Mazda MX-5 Cup presented by BFGoodrich® Tires championship battles heat up all across the field.With three different titles on the line and a grand total of $290,000 in support up for grabs, the Mazda MX-5 Cup has plenty of racing left before the champions emerge at the end of the season. The overall champion will receive a hefty $200,000 prize from Mazda to put towards the next level of their Mazda Road to 24 career, while the top placing Rookie will earn themselves a $75,000 check, up from last year's $50,000 earning. Finally, the new-to-2018 Challenger Class presented by Monticello Motor Club will also award the winner with a Mazda Experience worth $15,000.
With 17 total changes for the lead and 1,352 passes for position over the course of the first six races of the season, it's anyone's game as the final six races remain.
The championship battle has seen several drivers standout amongst the field. Nikko Reger (No. 01 Slipstream Performance) has stormed to the top so far this season with his racecraft generating consistent results. Currently topping the leader board with 142 points – 13 points over Bryan Ortiz (No. 4 Copeland Motorsports) who sits second – Reger will aim to use his pace through the second half of the season to take the title.
But to do that, Reger has some learning to do—fast.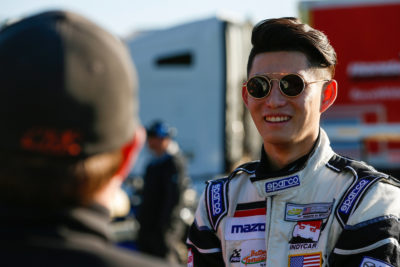 "I've never actually been to any of the remaining tracks, which is what I'm most worried about in the upcoming weeks," said Reger when asked which of the next three tracks are his favorite. "I've been putting most of my effort into being ready for Mid-Ohio. It is similar to Barber in that it is very technical, so I'm excited about that. I've been iRacing every day to be ready as well as watching in-car footage. That really helped me at Road America to put in that effort to prepare ahead of time so hopefully it will again at Mid-Ohio. I feel really lucky to be on top right now, and the Slipstream guys have been right on top of their game."
Seeking redemption from last year after finishing just shy of the 2017 Rookie of the Year title, Ortiz is on the tail of Reger as he hunts the grand MRT24 prize of $200,0000. Winning the season opener at Circuit of the Americas followed by two additional podium finishes at COTA Race 2 and Barber, Ortiz will be aiming to close the championship points gap heading into the next round of competition at Mid-Ohio.
The championship battle could see a shuffle in the order come the end of the season as each driver is able to drop their lowest race finish. If drivers were to drop their lowest result with the current standings there would be a reorder in the championship. The overall championship would keep Reger in the lead and Ortiz in second, with Rollan moving into third.
One racer who has both the rookie award as well as the overall championship prize in mind is 2018 MRT24 Shootout Scholarship winner, Selin Rollan (No. 87 Sick Sideways Racing).
Starting the season off with $100,000 of Mazda scholarship winnings, Rollan was an early standout, impressing the field as he won the second race of the season opening race weekend at COTA. Rollan followed up his race winning pace with two additional podiums to place him fourth in the championship with 108-points and just 4-points behind third place, John Dean II (No. 16 Sick Sideways).
And that rookie battle? It's also going well for Rollan, as he leads the Rookie championship over the series' youngest racer, 14-year old Robert Noaker.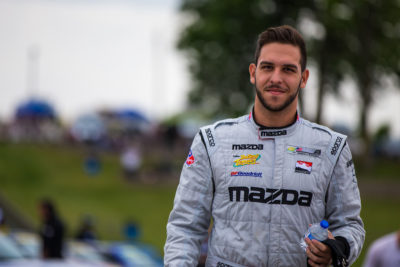 "I didn't have too much in the way of expectations ahead of the season, but I feel like I'm in a good place as far as the rookie battle. But I'd really like to stay consistent and maybe get back to a win, that's the goal," said Rollan, who when he isn't racing a Mazda, is selling them. "I've raced at Mid-Ohio before in the Nationals and hopefully that experience will help me this weekend. When I had my DNF at Road America, I turned into being a spectator and even though that is the last thing you want to do as a racer, I was pretty amazed at the racing, to see it from the outside. A 20-car train for the lead, pretty much every lap, it was just incredible and was another awesome MX-5 race for the fans."
The Challenger Class presented by Monticello Motor Club has seen three drivers stand out this season. Alex Wolenski (No. 56 McCumbee MacAleer Racing), Nigel Faulkner (No 82 McCumbee MacAleer Racing) and Charlie Belluardo (No. 73 Flatout Motorsports) have been neck and neck with Wolenski topping the charts with 161-points, followed by Faulker at 140-points and Balluardo with 126-points.
For the Challenger Class, Wolenski currently holds the lead but would also see Belluardo move into the lead over Faulkner in third after dropping his two worst race results. No matter who is on top, all three racers are relishing the opportunity to continue to grow their skills and develop their racecraft.
"My greatest challenge is the fact that I've not been to any of these tracks on the schedule except for Monticello Motor Club!" said Bellardo, who took the win in the opening four races of the Challenger Class. "Alex (Wolenski) and I are good friends and Nigel (Faulkner), he's a great competitor and I have to say that if any of those guys beat me, I'll shake their hand and offer to take them to dinner. There is a great camaraderie and we are all kind of cheering for each other so it is a great thing to be a part of."
With six races at Mid-Ohio, Portland and Monticello still to play, there is plenty of racing to come so the Championship battle is only just beginning.
Overall
Championship
Driver
Points
Nikko Reger
142
Bryan Ortiz
113
John Dean II
112
Selin Rollan
108
Rookie
Championship
Selin Rollan
108
Robert Noaker
59
Austin Allison
29
Kyle Kimball
21
Challenger
Class
Alex Wolenski
161
Nigel Faulkner
140
Charlie Belluardo
126
Albert Lukazik
80