NEWTON, Iowa (July 9, 2018) – In America's Heartland sits one of the most important circuits in racing, Iowa Speedway. The 7/8 of a mile oval was designed by stock car legend Rusty Wallace, but for the last 12 years, the track has taken the Mazda Road to Indy back to the roots of open wheel racing in North America.
The sport flourished on legendary oval circuits such as the Milwaukee Mile, Trenton Speedway and the iconic Indianapolis Motor Speedway back in the mid-20th century, and as Indy car racing has developed, so has its circuits. Featuring 11 street and road courses on the 2018 schedule, the series has adopted more tracks to showcase its diverse and entertaining product.
The Indy Lights series has closely followed the Indy Car schedule over the last 30 years. IndyCar drivers Scott Dixon, Josef Newgarden, Tony Kanaan and many more are past champions of the Indy Lights series and have gone on to successful careers because of the development platform where success is valued, but learning and adapting to the difficulties of intense racing are vital.
With only three ovals on the schedule, any driver in Indy Lights with aspirations to drive in the Verizon IndyCar Series and to be successful at the Indianapolis 500, learning and adapting to the high-speed Iowa Speedway tri-oval is a crucial part of that learning process.
"I think it's critical," said Townsend Bell, 2001 Indy Lights Champion and NBC Sports IndyCar analyst. "When you come up through the ladder system, it used to be as far down as USF2000 there was lots of oval races on the schedule. For so many of the drivers who come up through karting or drivers who come from Europe, there's a knowledge base, a vocabulary, a driving style that is foreign to anybody that hasn't done it before."
Bell won the 2001 Indy Lights Championship with consistent results, especially on ovals. His top-ten finishes at every oval circuit that season, including wins at Milwaukee and Fontana, cemented his championship campaign and his future in IndyCar.
"The best example [of showing how important ovals are to the ladder system] is a Josef Newgarden, who had the ladder exposure and came up through Indy Lights, versus Simon Pagenaud, who had his first oval race in IndyCar. The firehose you have to drink through is pretty wide when you haven't done it through the ladder system and it [Indy Lights] really accelerates the learning curve so when you get to IndyCar, you're ready."
"This could be the best track to learn on because it's bumpy and now they're racing in the daytime so the track temperatures are higher than they were at night. There's no such thing as an easy Indy 500 and that's ultimately where everyone wants to go. All of the pain, suffering, time and the investment through the ladder system, to get yourself to Indy Lights and IndyCar, and hopefully mastering ovals–it all leads to one thing at the end of the day which is winning the Indy 500."
In 2015, Max Chilton and Carlin Racing began their journey to into IndyCar through growth and development on the Mazda Road to Indy Presented by Cooper Tires. Chilton, who previously was competing in the Formula One World Championship, knew he had to learn the craft of oval racing through Indy Lights.
"It was the right thing to do," stated the 2015 Iowa 100 winner, Chilton. "Some people said, 'why would any F1 driver join a junior category?' but I think it is dangerous if you step up to an oval when you've never done one before. It did me good; I won here, I learned the craft and then I made the jump to IndyCar which wasn't as big. I think it should be a regulation that you should do an oval race before you get into IndyCar on an oval and it was good to do it with Carlin [Racing]."
In 2016, Chilton finished seventh in his first IndyCar oval race at ISM Raceway in Phoenix and would qualify fourth at Iowa Speedway. In 2017, the Briton would lead 50 laps at the Indianapolis 500 and would finish fourth, proving to his previous critics that Indy Lights experience on ovals is crucial to success in IndyCar.
As the next crop of great drivers took to the Iowa Speedway circuit this weekend, Townsend Bell had one particular Indy Lights driver in mind that has done an exceptional job in learning the art of the oval.
"I would say Colton [Herta]…He's clearly the one you look at and know that this kid has a bright future in IndyCar, but you can't rush experience, there's just no short cut to it. Accumulating the knowledge; if you look at Indy [Freedom 100] last year for Colton and the way that race went [13th place finish] versus this year [first-place finish and first oval win], he's proven he's already learned a ton year-over-year and the value in learning here and not making those mistakes in the big car."
Indy Lights Presented by Cooper Tires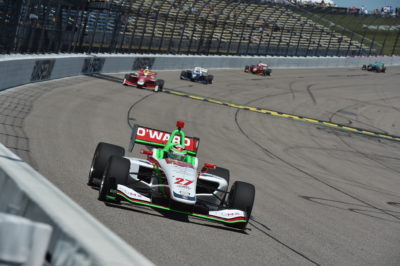 Colton Herta's points lead has been cut down to eight points after a dominating weekend by Andretti teammate, Patricio O'Ward who lead from pole position for all 100 laps of the Mazda Iowa 100 Presented by Cooper Tires. Uruguay's Santi Urrutia started the race fifth but would pass Dalton Kellett, Ryan Norman and Colton Herta to settle into second. With less than 10 laps remaining, Herta overtook Urrutia for second and the Andretti teammates would finish first and second, followed by Urrutia. The Mazda Road to Indy heads north of the border to Toronto, Ontario, Canada, July 13-15.