Winner of the Mazda Road to 24 Shootout is near the top of the MX-5 Cup points
Midway through his first season of professional racing, Selin Rollan is already making a name for himself after emerging from the Mazda Road to 24 Shootout. A winner in only his second Idemitsu Mazda MX-5 Cup presented by BFGoodrich® Tires race – an impressive come-from-the-back victory in the rain at Circuit of The Americas – Rollan is fourth in the points overall and leading the Rookie of the Year standings by a sizeable margin. Even he admits his season is going a better than expected.
"It has definitely been an enjoyable time and ride," he says. "I am very grateful for this whole season and this year.
"I'm definitely very surprised with how close the cars are and how close the competition is," he admits. "I feel like in Spec Miata there's a lot of parity – there are different engines and different engine builders…it's built to the same spec, but there's still differences. [MX-5 Cup] is so much tighter in the field in that respect. I enjoy that – it really lets the driver shine."
Rollan, who makes his living selling CX-9s, Mazda3s and, of course, Miatas at Classic Mazda in Orlando, honed his skills in Spec Miata and finished second at the 2017 SCCA National Championship Runoffs to Preston Pardus in a race that could have easily ended with any of several drivers taking the victory. That year, both Rollan and Pardus went to the shootout where they drove Long Road Racing-prepared MX-5 Cup cars at the Bondurant School facility at Wild Horse Pass Motorsports Park near Phoenix, Ariz. The judges settled on Rollan as the winner of the scholarship that consists of a MX-5 Cup car and much of the resources to campaign it for a season.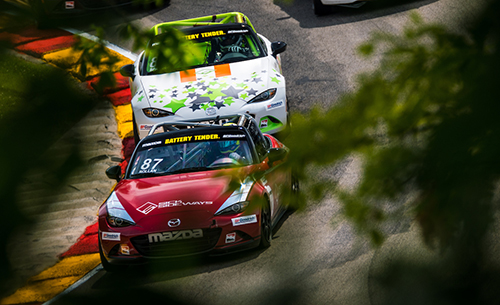 "All my experience in Spec Miata definitely conditioned me for this very well," he says. "Especially coming from the Southeast – it's weird, [but] even in karting I feel like the Southeast is just a strong division. I guess since it's always sunny and hot and you can race all year long.
"For example, in the first two weekends of the year we have a big race at Homestead and a bigger race at Sebring and we pull like 60 or 70 Miatas. There is always competition. That attributed well to how I am doing in MX-5 Cup. I am fast, staying competitive and being there for every race," Rollan says.
As the MX-5 Cup season continues, Rollan is looking forward to racing at Mid-Ohio, a track he has competed at before, and Portland, where he's never been. "I have seen some videos of [Portland International Raceway] and it looks like a simple track, but it should be fun in these cars," he says.
Rollan is making the most of the opportunity he has with the Mazda Road to 24 career advancement scholarship, and knows he is where he is – near the top of the points standings – because of it.
"I am grateful for what Mazda's done for someone who comes from club racing and amateur racing – the opportunity that they give someone who works so hard for it and has shown that they do well," he says. "Obviously, everyone wishes they could give it away to more people, but one person a year is a big thing. I am thankful to them for allowing me to live this dream and I'm excited to see who else comes up through the ranks. I would like to be a judge for that, just to see people come up through that and see someone experience what I did."
The next race for the MX-5 Cup is at Mid-Ohio Sports Car Course on July 27-29 with the Verizon IndyCar Series. The series has been live streaming its races this year, so look for that to happen again at Mid-Ohio.