Mazdas sweep the Production classes at one of SCCA's largest regular season events
The 63rd consecutive running of the WeatherTech Chicago Region June Sprints at Road America, part of the 2018 Hoosier Racing Tire SCCA Super Tour, took place this weekend with eight different race groups taking to the historic track for two days. And the action on the 4.048-mile, 14-turn circuit produced a lot of excitement for racers and spectators alike.
Saturday produced some great racing for the shorter races, and then things heated up, literally, as temperatures soared into the 90s with high humidity, resulting in a heat index over 100 degrees. That created an additional challenge for competitors; but winning at a legendary event such as the June Sprints is always a challenge.
One driver who admits he has not been "hot" in 2018 is Spec Miata ace Jim Drago. It's been a tough season for Drago, but he turned it around during the June Sprints, taking wins both Saturday and Sunday in his East Street Racing Mazda Miata. On Saturday, he fought hard with Michael Carter in the closing laps for the win. On Sunday, it was Chris Haldeman and Danny Steyn who kept Drago busy on the last lap.
"I over-slowed going into Turn 14 so I could get a good run and the other guys couldn't get me," Drago said about his last-corner strategy Sunday. "That got me up to the checkered flag."
Another driver who heated up over the weekend was Scott Rettich. For the first time in a while, he jumped in his Alliance Autosport/Red Line Oil Formula Enterprises Mazda and took two FE wins on the weekend before doing the same in SRF.
Several other drivers managed a "sweep" over two days of racing at the June Sprints. Some were dominant throughout their races, and some persevered until they came out on top. Mark Brakke, in his H Production Mazda2, was the latter. On Saturday, Steve Sargis and his Triumph Spitfire took an early lead but fell away and handed the HP win to Brakke. On Sunday, Sargis again stormed out to an early lead, but ended up off track after a few laps. This time, however, Daniel Meller and his Datsun 210 inherited the top spot. But Brakke refused to give up and passed Meller for the lead with only a handful of laps remaining. Brakke then went on to claim his second HP win over two days.
"Dan and I ran in to a bit of traffic for a while," Brakke said about Sunday's race. "But when the traffic cleared out, I was finally able to gradually gain on Dan and finally made a successful pass. Then he had the misfortune a few laps later of having something break on his car."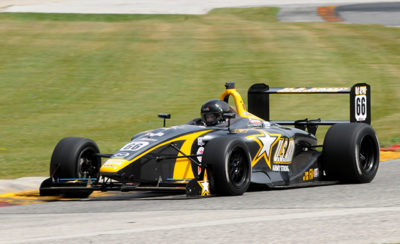 Other double winners include Mark's brother Jon Brakke in his E Production Miata; Eric Prill in F Production (Miata); Hans Peter in his Swift 016/Mazda Formula Atlantic; Danny Steyn in Super Touring Lite (MX-5); and Jarret Voorhies in Formula Mazda. Two different drivers in two different cars won in Touring 4 – Richard Dickey took the win on Saturday in an RX-8 and Thomas Bernacki won on Sunday in an MX-5.
There are no breaks this week for Super Tour competitors as the series moves directly to its final event of 2018 being held June 22-24 at Watkins Glen International in Upstate New York. Follow all the action live at www.scca.com/live.
SCCA Hoosier Racing Tire Super Tour
Road America; Elkhart Lake, Wis.; June 16-17, 2018
June 16 Provisional Mazda Winners
E Production: Jon Brakke; Fargo, ND; Land O'Lakes Region; Mazda Miata
F Production: Eric Prill; Topeka, KS; Kansas Region; Mazda Miata
H Production: Mark Brakke; Coon Rapids, MN; Land O'Lakes Region; Mazda 2
Formula Atlantic: Hans Peter; Olathe, KS; Kansas City Region; Swift 016
Formula Enterprises: Scott Rettich; Columbus, OH; Ohio Valley Region; SCCA FE Mazda
Formula Enterprises 2: Paul Schneider; Charlotte, NC; Central Carolinas Region; SCCA FE2 Mazda
Formula Mazda: Jarret Voorhies; Kissimmee FL; Central Florida Region; Formula
Mazda
Spec Miata: Jim Drago; Memphis, TN; Mid South Region; Mazda Miata
Super Touring Lite: Danny Steyn; Fort Lauderdale, FL; Florida Region; Mazda MX-5
Touring 3: Austin Allison; Cincinnati OH; Cincinnati Region; Mazda MX-5
Touring 4: Richard Dickey; Columbus, IN; Texas Region; Mazda RX-8
June 17 Provisional Mazda Winners
E Production: Jon Brakke; Fargo, ND; Land O'Lakes Region; Mazda Miata
F Production: Eric Prill; Topeka, KS; Kansas Region; Mazda Miata
H Production: Mark Brakke; Coon Rapids, MN; Land O'Lakes Region; Mazda 2
Formula Atlantic: Hans Peter; Olathe, KS; Kansas City Region; Swift 016
Formula Enterprises: Scott Rettich; Columbus, OH; Ohio Valley Region; SCCA FE Mazda
Formula Enterprises 2: Mathias Soler-Obel; Alpharetta, GA; Atlanta Region; SCCA FE2 Mazda
Formula Mazda: Jarret Voorhies; Kissimmee FL; Central Florida Region; Formula Mazda
Spec Miata: Jim Drago; Memphis, TN; Mid South Region; Mazda Miata
Super Touring Lite: Danny Steyn; Fort Lauderdale, FL; Florida Region; Mazda MX-5
Touring 4: Thomas Bernacki; Chicago, IL; Chicago Region; Mazda MX-5