Long Road Racing MX-5 finishes in the top half of the field despite the rain
Long Road Racing's evolution of the Mazda MX-5 Cup car was taken to the highest level for this year's Ultimate Track Car Challenge, adding a supercharger to a package that already included a SADEV sequential transmission and a hard top. But while Long Road tried to prepare for any eventuality, they couldn't control the weather.
"It was little wet," says Tom Long, who drove the MX-5 to a 2:22.2 lap around VIRginia International Raceway in challenging conditions. "[It was] a little bit of monsoon at times, but it made it a lot of fun because the conditions were constantly changing. We were really fortunate that the MX-5 Cup series has an extremely good rain tire so we were able to utilize the BFGoodrich rain, which made a world of difference vs. some of our competitors that might not have as much rain grip. And we even surprised ourselves that during one of the sessions we ended up being the quickest car out there."
Long Road and its MX-5 ended up within the top half of the UTCC field, beating a variety of cars including Corvettes and BMW M3s; the overall best time was set by Franklin Futrelle in a Mazda-powered Elan NP01 prototype. It wasn't quite the result Long hoped for, but it was perhaps the best that was achievable under the trying conditions.
"We never really achieved the lap time goal because it was always damp or a torrential downpour, but the MX-5 chassis, that's what it does so well – it's good in wet conditions and it's good in dry conditions," says Long. "I've got to tell you, having the extra punch of the supercharger, that extra 60hp to the wheels got it down the straightaway very quickly; and with the gearbox being the sequential SADEV box, it really livened the car up. Overall, it was a really fun day, and maybe we'll go back when we dry out and see what we can do for an ultimate lap time."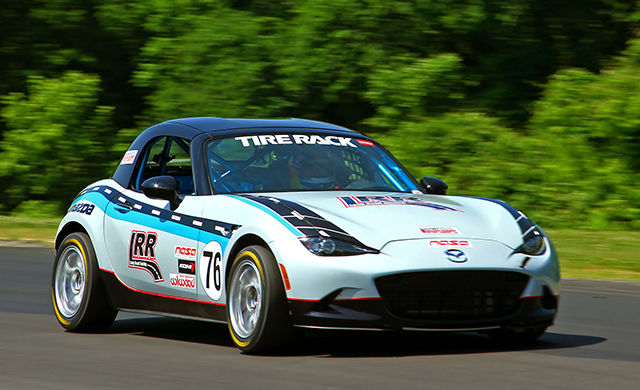 With the conditions less than ideal, one might expect the extra power from the supercharger to be a handicap, but Long notes it was actually beneficial. "What's amazing about that was the wheel spin was virtually non-existent," he points out. "Between the differential doing a great job putting power down and the linearity of the supercharger rather than a turbocharger, you had great, even power delivery the entire time."
There's a good chance the team will return for another shot at the Ultimate Track Car Challenge next year, possibly with even more improvements to the car. "Every year we have to come up with a new trick up our sleeve," Long says. "I'm not sure what we've got planned for next year, but it's such an exciting event – and really, I think more than anything, it displays what Long Road Racing and the MX-5 Cup car are capable of and how that translates to street car applications."