The life of a IndyCar driver can be rather hectic during the month of May with lots of commitments around the Brickyard, but for Spencer Pigot before he could focus on the Greatest Spectacle in Racing he started the month off by subbing for Harry Tincknell in the No. 55 Mazda Team Joest RT24-P during the fourth round of the IMSA WeatherTech SportsCar Championship at the Mid-Ohio Sports Car Course. This made the 25 year-old American, along with Helio Castroneves and Tony Kanaan as the only drivers who will attempt to qualify for the Indy 500 after having raced in sports cars the first weekend in May. Castroneves was also at Mid-Ohio, while Kanaan drove in the FIA WEC season opening race at Spa-Francorchamps in Belgium.
Of course, both Castroneves and Kanaan are previous 500 winners, so perhaps that's a good omen for Pigot.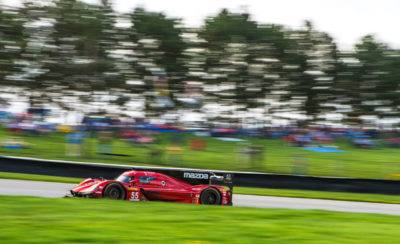 "When John [Doonan, Director of Motorsports at Mazda North American Operations] called me and asked if I'd be interested in driving at Mid-Ohio alongside Jonathan [Bomarito] I said, 'Yes, absolutely,'" says Pigot. "I was excited to add another race to my season and another race with Mazda."
Speaking to Pigot on the Thursday prior to the Indy Grand Prix as he prepared to switch from a Mazda prototype to an IndyCar, he was still upbeat about the sports car outing despite it not going according to plan.
"During the race, passing a GTD car, we bumped and it caused some damage to our right rear suspension," Pigot notes. "But overall the weekend was really good. I felt comfortable in the car, and I think we had good pace throughout the weekend, so there are positives for Mazda Team Joest."
The No. 70 car of Tristan Nunez and Oliver Jarvis finished in third place overall.
Now Pigot returns his focus to the Verizon IndyCar Series for this third attempt in the Greatest Spectacle in Racing. He finished 18th last year, but the Mazda Road to Indy graduate has switched to Ed Carpentar Racing (ECR) this year, a team that has a good track record at Indianapolis Motor Speedway. "It's my first Indy 500 race with ECR, and they have always shown good speed there in the past, so hopefully we have the pace towards the end of the race to have a shot at the top five," says Pigot.
Does Pigot foresee a challenge making the switch from the Mazda prototype to the IndyCar with such a quick turnaround? "Fortunately, I have some experience switching from one car to the other," he says. "It's not a problem for me, and this whole month is about your ability to change focus quickly. We go from the prototype where I share the car with another driver to a situation where it's all about what I want from the car exclusively. Plus, we go from the road course this weekend right into oval practice, so it's important to switch mental modes and focus quickly."
As a graduate of the Mazda Road to Indy (Castroneves and Kanaan are also IndyLights graduates), and a series title winner in both the Pro Mazda and IndyLights Championships, Pigot has been preparing for the better part of his life for a chance at getting his face on the Borg-Warner Trophy. How does he feel about his chances this year? "I don't know if I can predict anything, but I imagine I have the same goal as everyone else in the field which is to be in a position to win," says Pigot as he heads toward his third attempt in the race. "I feel more comfortable now than in the past couple of years, which just comes from running laps. Now I have a better sense of how things like temperature and wind changes affect the balance of the car, and all the other little things that you build up in your memory and can draw from when you need to."
Take the fact that Pigot demurs from making a bold prediction as a sign of quiet confidence. He'll certainly be one to watch for the rest of the month of May.
SaveSave