O'Ward, Thompson and Kirkwood lead Mazda Road to Indy championships after first racing of weekend at Indianapolis Motor Speedway
IRVINE, Calif. (May 14, 2018) — Entering the month of May, Colton Herta was looking up at the top step of the podium and seeing teammate Patricio O'Ward's early season domination. The young Mexican had won three of four races, including a sweep at the previous round at Barber Motorsports Park. Herta's early season finishes were solid, but for the hungry 18-year-old from Valencia, California, nothing but dominance is good enough for championship contention.
The son of 1993 Indy Lights champion Bryan Herta, Colton is now competing in his second season in Indy Lights. Last year, in his debut weekend, he claimed a dominant win at St. Petersburg, but the remainder of the season was an up-down affair. While he scored six pole positions, it only translated to two wins on the season.
Entering the 2018 season, Herta was widely considered the championship favorite, knowing that consistency and translating pace to race wins would be key. But entering the month of May, he sat 27 points adrift series leader and teammate O'Ward and still no wins to his name.
"Racing is such a mental game as well as a physical one, but I would say it's 90% mental. If you don't have the right state of mind, you won't do well and the first two weekends were a struggle," said Herta.
It all seemed to click on Friday afternoon at the Indianapolis Motor Speedway and despite slipping to sixth place on the opening lap, he was able to recover positions throughout the race, setting fastest race lap after fastest race lap. Herta made two stunning passes on 2016 and 2017 series runner-up Santi Urrutia and 2017 race winner Aaron Telitz to secure his first win of the season and his first win at the Racing Capital of the World.
With a win under his belt and the field now on notice, Herta would have a tough task at going back-to-back at The Brickyard, a feat that had never been accomplished before in the five-year history of the event.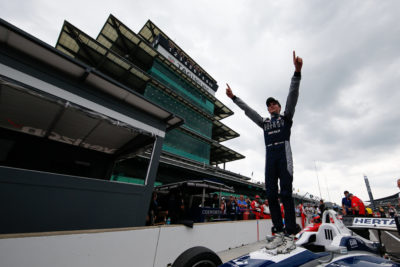 In Saturday's 35-lap race, Herta slipped from second to fourth on the first lap. He sat behind former Pro Mazda Champions Urrutia, Telitz and teammate O'Ward. Where the failures of the past would have bitten Herta, he instead was able to make aggressive, calculated moves to climb higher and higher during the race.
With three laps to go, Herta went wheel-to-wheel with Urrutia in Turn 1, with neither driver giving an inch. The battle came to a head in Turn 2 when the duo touched wheels, resulting in the Uruguayan spinning around and out of contention for the race win. Herta, meanwhile, went on to take his second win of the 2018 season and the fourth of his Indy Lights career.
"I can't believe it," said Herta afterwards. "I have not swept a weekend on the Mazda Road to Indy, and we needed it to get back into the championship. To get two wins at Indy is just spectacular – now I want to win the Freedom 100 and sweep the month. I knew the start would be tough, so I tried to slot in behind Aaron [Telitz] and move my way forward. I haven't seen a replay so I don't know exactly what happened with Santi, but from my side I was ahead going into the corner and he pushed me off into the grass when we were side by side. He didn't leave me any room coming back onto the track, so we made contact. It was an all-or-nothing move for me because it was my last push-to-pass, but as far as I'm concerned, it was a racing incident."
With the back-to-back wins, he now sits just one point behind O'Ward in the championship. Herta aims to continue the change in momentum as the Indy Lights series reaches its crown jewel event, the Freedom 100, held at the Indianapolis Motor Speedway oval course on May 25.
INDY LIGHTS SERIES PRESENTED BY COOPER TIRES
Patricio O'Ward entered the weekend as the Indy Lights Series Presented by Cooper Tires points leader following a dominant double-win at Barber Motorsports Park in April. He would continue his domination early on at the Indianapolis Motor Speedway road course configuration, capturing pole position for both races on the 2.4-mile circuit. But it would be Herta who would emerge from the weekend with two victories, after charging through the field in both races after opening lap dramas in each race. With those two victories, Herta now trails O'Ward by a single point in the championship.
PRO MAZDA CHAMPIONSHIP PRESENTED BY COOPER TIRES
Harrison Scott took this second straight Pro Mazda victory in Round 5, besting Oliver Askew and Reenus VeeKay after a race long battle. Round 6 went to Parker Thompson after he and Braziilan Carlos Cunha staged a battle for the lead, with Sting Ray Robb rounding out the podium. Thompson now has a clear lead in the championship with a 22-point advantage over VeeKay.
COOPER TIRES USF2000 CHAMPIONSHIP POWERED BY MAZDA
Frenchman Alex Baron and points leader Kyle Kirkwood would continue their head-to-head battle from St. Petersburg sitting at the front of the field for the start of the first race of the weekend. 19-year-old Kirkwood got the better of Baron in both qualifying sessions, but it was the 23-year-old, Baron, that came away with the spoils in Round 3 ahead of Kirkwood and Mexican rookie Jose Sierra after an incredible battle. In Round 4, it was Kirkwood who scored the victory with Baron and Swede Rasmus Lindh just behind.
The Indianapolis theme continues for the Mazda Road to Indy, as the Indy Lights Series Presented by Cooper Tires takes to the crown jewel of its season, the Freedom 100, at the Indianapolis Motor Speedway oval on May 25. Later on that day, and only a few miles away, the Pro Mazda Championship Presented by Cooper Tires and the Cooper Tires USF2000 Championship Powered by Mazda take to the 5/8 mile oval at Lucas Oil Raceway for the Carb Night Classic.