Rescheduled and shortened races make for exciting times at VIR SCCA Super Tour
A week earlier, Hoosier Racing Tire SCCA Super Tour competitors faced chilly temperatures and even snow at Hallett Motor Racing Circuit in Oklahoma. This past weekend, gorgeous conditions greeted racers, with temperatures in the upper 70s, at VIRginia International Raceway for a race weekend hosted by SCCA's North Carolina Region The threat of storms on Sunday, however, led to a compressed schedule and one group doing two races on Saturday.
A 42-car Spec Miata field wowed spectators Saturday. Jim Drago led the field to the start, followed by Michael Carter, Jonathan Goring, Chris Haldeman and a gaggle of others. Early on, the lead pack consisted of nearly a dozen cars; but after a handful of laps, it became apparent that Carter, Goring and Haldeman were the ones in command and they each took a turn leading the field. As the white flag fell, Carter was in front. But by the time the leaders popped over the ridge and plunged down the Roller Coaster to the last couple of turns, it was Goring who was ahead and went on to win in his No. 11 Jonathan Goring Motorsports/Rossini Racing Products Mazda Miata. This was the first Hoosier Super Tour win for Goring, who was the 2015 Spec Miata Runoffs champion and President's Cup recipient.
"I must say, that was pretty much one of the wildest races that I've driven," Goring said afterwards. "Every driver here is good. The competition is phenomenal, and this is why I love Spec Miata racing. It's crazy stuff."
Tyler Kicera took the Sunday Spec Miata win in his Flatout Motorsports/X-Factor Engines/Carbotech Miata.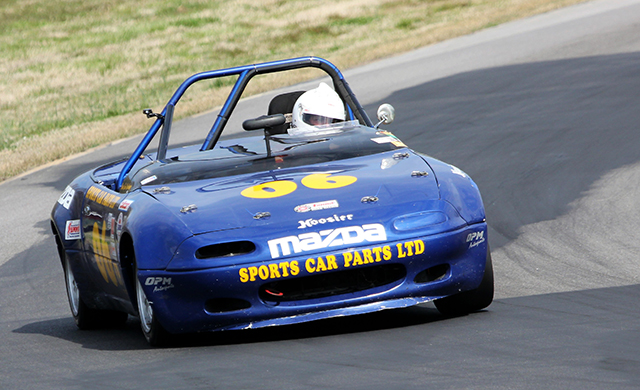 On Saturday, the five car classes in Group 2 agreed to run both their races to help ease scheduling issues that could arise Sunday with the arrival of inclement weather. The group's first race, however, was shortened due to multiple on-track incidents. Owen Schefer ended up on top in the Touring 4 field in his RP Performance/Mazda/Hoosier RX-8. When they re-emerged at day's end for a second shot at the 3.27-mile, 18-turn course, drivers were ready for a good race. By the end of the day's second event, a completely new set of winners emerged in most of the classes.
Saturday marked the first appearance of new, Runoffs-eligible Formula Enterprises 2 cars, a new class in 2018 to both the Super Tour and U.S. Majors Tour. The very first FE2 victory went to Rhett Barkau in the No. 01 Barkau Automotive SCCA Enterprises FE2 racecar. Todd Vanacore took the victory on Sunday in his Stor It Self Storage machine, while Thomas Green (Radiology Assoc. of Daytona Beach) and Lee Rackley (Castrol Edge) split the FE wins.
After a beautiful opening day, Sunday's forecast was a bit different, with severe storms expected in the afternoon. To beat the weather and make sure all drivers got their second race, the day's events were shortened from 35 minutes to 24 minutes.
F Production driver Michael Kamalian wasn't having much fun early in the weekend. On Saturday, he got tangled up with a GT-Lite car and did a fair amount of damage to his No. 99 RevolutionSpeed.com/Hoosier/G-LOC Mazda Miata while Robert Garrison took the FP victory in his Sports Car Parts LTD/Hawk Brakes/Hoosier/Mazda Miata. Kamalian's team scrambled to get everything back together, even receiving help from fellow competitors, and when the green flag flew on Sunday, Kamalian was on track and in the hunt. Charlie Campbell in his Mazda Miata led the first half of the race, but spun. Kamalian moved to the top spot and went on to victory.
"I was chasing Charlie and saw he was loose," Kamalian said. "When Charlie spun off, I just had to keep the lead from the guys behind me."
In one respect, the VIR round of the Super Tour was the complete opposite of the Hallett event. Where every Mazda winner doubled up at Hallett, winning on both days, at VIR the only person to take two wins was Jeff Dernehl and his Roswell Outback Auto/Hoosier/luckys bar &grill RX-7 in GT-3.
To wrap up a busy month of April, SCCA's Super Tour makes its way to the West Coast on April 27-29 at Buttonwillow Raceway Park in California. Follow all of the action live at www.scca.com/live.
SCCA Hoosier Racing Tire Super Tour
VIRginia International Raceway, Alton, Va., April 14-15, 2018
Provisional April 14 Mazda winners
F Production: Robert Garrison; Knoxville, TN; Eastern Tennessee Region; Mazda Miata
Formula Atlantic: Spencer Brockman; Westport, CT; New England Region; Swift 014
Formula Enterprises: Thomas Green; Lake Mary, FL; Central Florida Region; Van Diemen SCCA Formula Enterprises Mazda
Formula Enterprises 2: Rhett Barkau; Freeport, IL; Blackhawk Valley Region; SCCA Enterprises FE2
Formula Mazda: Nicholas Malone; Fate, TX; Texas Region; Formula Mazda FM
GT-3: Jeff Dernehl; Roswell GA; Atlanta Region; Mazda RX-7
Prototype 1: Darryl Shoff; Reading, PA; Philadelphia Region; Elan DP02
Spec Miata: Jonathan Goring; Norfolk, CT; New England Region; Mazda Miata
Touring 4: Owen Schefer; Warrenton, VA; Washington D.C. Region; Mazda RX-8
Provisional April 15 Mazda winners
F Production: Michael Kamalian; Marietta, GA; Atlanta Region; Mazda Miata
Formula Atlantic: Blake Mount; Highland Ranch, CO; Colorado Region; Swift 016
Formula Enterprises: Lee Rackley; Clinton, NC; North Carolina Region; Van Diemen SCCA Formula Enterprises Mazda
Formula Enterprises 2: Todd Vanacore; Ormond Beach, FL; Central Florida Region; SCCA Enterprises FE2 Mazda
Formula Mazda: Brad Yake; Fort Worth, TX; Texas Region; Formula Mazda
GT-3: Jeff Dernehl; Roswell GA; Atlanta Region; Mazda RX-7
Prototype 1: Jacek Mucha; Highland Beach, FL; Florida Region; JMS016cp Mazda
Spec Miata: Tyler Kicera; Manheim, PA; Susquehanna Region; Mazda Miata