The Mazda Motorsports family and the world of sports car racing lost veteran driver Buzz Marcus on April 16. We are saddened to lose Buzz, his decades of winning (literally and figuratively) spirit, his jokes, and his passion. In honor of Buzz and in sympathy to his loving family, we are re-running this story which originally appeared on MazdaMotorsports.com and RACER.com in January 2017. We are also going to honor Buzz with a special In Memoriam Spirit of Mazda award for his years of dedication to our sport and constantly striving to represent Mazda and the many other brands he drove for throughout his career. God's Speed, Buzz…you will be forever missed.

Buzz Marcus – Forever Young

If there is one Mazda racer who fits the "Been There, Raced That" mold, it is Buzz Marcus. Buzz has been racing for over 50 years and shows no signs of slowing down. We caught up with Buzz to ask him a few questions about his career.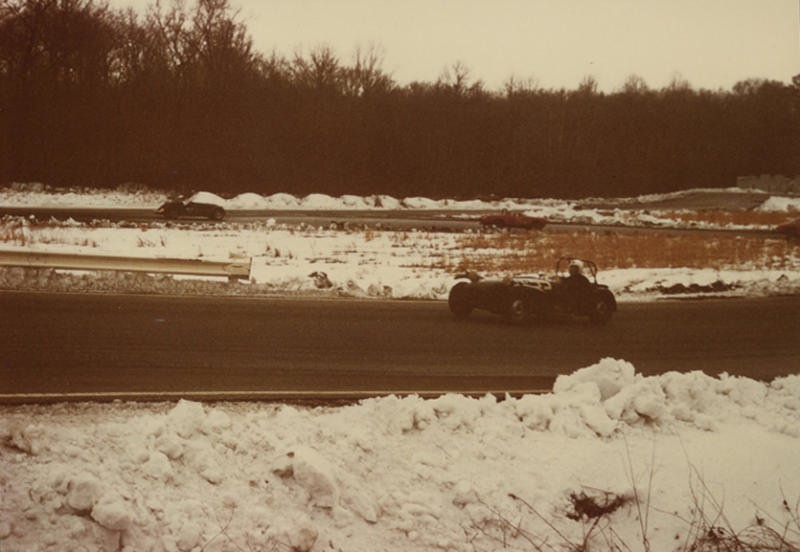 MM: Do you remember your first race ever with Mazda?
BM: My first ever race was most interesting. Nick Craw then President of the SCCA was on a tour promoting the new ITS class and it was called BEAT THE BOSS. He was driving a 240Z against all comers. He was coming to Moroso in Palm Beach, Florida. I rented an RX-7 from Pettit Racing and his parts manager was a kid named Sylvain Tremblay. The feature race was the BEAT THE BOSS race which I did! That was my first race in a Mazda.
MM: What do you prefer about modern racing against the early '70s?
BM: Modern street cars are almost race worthy versus the cars of the 60's and 70's. Most notably the brakes, tires, and engine reliability is much better.
MM: Do you have a favorite race car?
BM: My favorite race car was my Titan Mk 6 FF campaigned in the Nationals back in 1974. After that I have raced many cars but I have to say my RX-7 built by Speed Source in 2000 was my favorite production car.
MM: What was your most memorable race?
BM: My most memorable race is a tough one as I have raced many cars in tracks around America. But I guess it would be the first IMSA endurance race ever at Mid Ohio. It was a six hour race and I won in a Toyota Celica the first race ever won by a Toyota worldwide.
MM: What advice would you give to someone just starting out in the sport?
BM: My advice to someone starting out is quite different than my early days as there are so many schools for racing. For someone who wants to be a pro, the Mazda ladder looks like the best.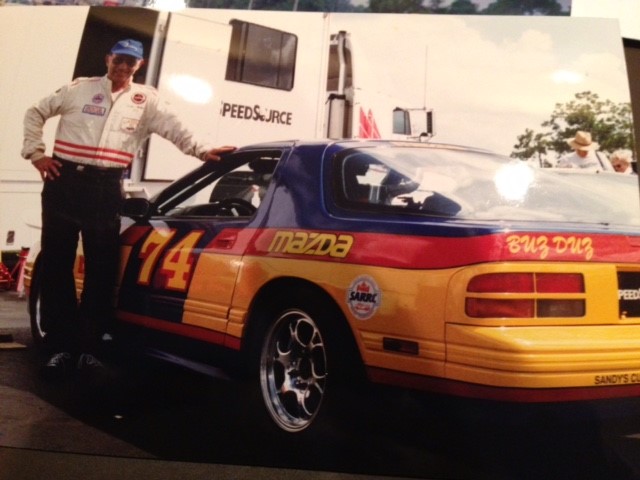 For the final word on Buzz, we asked that "parts manager kid" Sylvain Tremblay his thoughts. Tremblay, now the owner of SpeedSource, immediately smiled as he noted, "I had the pleasure of meeting Buzz in the early '90s and how can you not instantly like a guy whose business card said "Minister of Fun"!! He had a second gen Turbo RX-7 that he wanted to make faster (a constant trend with Buzz). We became fast friends and worked on many street cars and race cars throughout. The one thing that stands out with him are his great stories, but unlike most, Buzz did all those great things, he has the pictures, yes even some with hair, the track records, and race wins to back up his fantastic claims. His involvement with Mazda race cars is one of the constants that has kept his name in the spotlight for decades, you would be hard pressed to find a more passionate guy about the brand, "Buzz Duzz" is more than a vanity plate for him, it's a way of life!"