In Friday afternoon IMSA qualifying, Harry Tincknell qualifies No. 55 Mazda RT24-P in third place with Tristan Nunez seventh in No. 77 Mazda RT24-P
IRVINE, Calif. (April 13, 2018) – The best of the Mazda RT24-Ps will line up in third position for Saturday's IMSA Bubba Burger SportsCar Grand Prix at Long Beach.
The day started early on Friday for Mazda Team Joest, with the first practice session going green early in the morning before late afternoon practice and qualifying. A twenty-five degree change in ambient temperature meant the teams and drivers faced vastly different conditions in the afternoon than in the morning. But in that qualifying Long Beach rookie Harry Tincknell threatened for pole position in the No. 55 Mazda RT24-P before finishing the session in third position with a lap time of 1:13.156, a scant 0.234-second behind pole position. Tincknell will share the car with teammate Jonathan Bomarito.
Tristan Nunez, in the sister No. 77 Castrol/ModSpace Mazda RT24-P, qualified in seventh position for Saturday's 100-minute race. Nunez, who will share the car with Olivier Jarvis, finished in third position in last year's IMSA race at Long Beach. Jarvis, who is also a rookie at Long Beach, placed the Mazda in fourth position in the Saturday morning practice.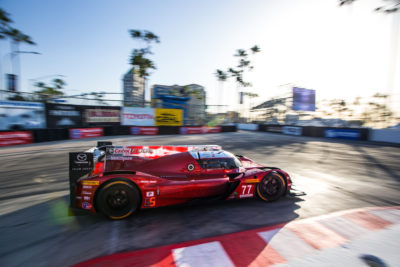 The Bubba Burger SportsCar Grand Prix at Long Beach will be broadcast live on FOX on Saturday, April 14 at 4:00 PM ET.
Mazda Team Joest fans can follow the team at @MazdaMotorsports on all social media platforms.
Quotes
John Doonan, Director, Mazda Motorsports
"We came here with a lot of momentum from Sebring. It's a real toss in the air when you come to Long Beach relative to what the track conditions are going to do – we were on track at 7:40 in the morning and at 6:00 in the afternoon to qualify. But I'm very proud of where we ended up today. Third place is our highest starting position this year, and the same place we qualified last year and at the start we had an opportunity to get a position. Anything can happen tomorrow, I think the key will be to stay clean and see what happens at the end. But I think we had another lift of momentum that we've taken from Sebring that we'll take into tomorrow."
No. 55 Mazda RT24-P
Harry Tincknell
"Obviously, we're pretty happy with today's qualifying effort. It's a great result for the team, they put in a lot of work to give us a car that we could threaten for pole position with. The conditions changed quite a lot so it was tricky, but I'm happy with the result and I think we have a good car for Jonathan and myself to race with tomorrow. It will be a big day with so many guests from Mazda here so we hope to put on a good show for them."
No. 77 Castrol/ModSpace Mazda RT24-P
Tristan Nunez
"The track conditions really changed so the qualifying session was tough, and I'm a little bit disappointed we couldn't do better. Long Beach is a tough track that's hard to pass on. Using the traffic is going to be key – your best bet will be use traffic as a pick and play it right. But there's not many passing opportunities here. We'll go back and look at some data and see what we can improve for tomorrow. We've got to really fight hard tomorrow, but you never know what will happen – it's racing."
Mazda Motorsports
Mazda Motorsports boasts the most comprehensive auto racing development ladder system of any auto manufacturer in the world. The Mazda Road to 24 (#MRT24) program offers a number of scholarships to advance drivers up the sports car racing ladder, beginning with the MX-5 Cup series and culminating with the Mazda Prototype team. The Mazda Road to Indy (#MRTI) is a similar program that includes Mazda-powered categories of USF2000, Pro Mazda and Indy Lights. In grassroots road racing, more Mazdas race on any given weekend in North America than any other manufacturer. Follow all of the latest news at MazdaMotorsports.com, @MazdaRacing on Twitter, and MazdaMotorsports on Instagram and Facebook
Mazda North American Operations
Mazda North American Operations is headquartered in Irvine, California, and oversees the sales, marketing, parts and customer service support of Mazda vehicles in the United States and Mexico through nearly 700 dealers. Operations in Mexico are managed by Mazda Motor de Mexico in Mexico City. For more information on Mazda vehicles, including photography and B-roll, please visit the online Mazda media center at InsideMazda.MazdaUSA.com/Newsroom.
Follow MNAO's social media channels through Twitter and Instagram at @MazdaUSA and Facebook at Facebook.com/MazdaUSA.