Mazda Team Joest will enjoy home town advantage this week in Long Beach as it races just a few miles from Mazda North American Operations
IRVINE, Calif. (April 10, 2018) – Any team looks forward to competing in their home arena, and for Mazda Team Joest, the Grand Prix of Long Beach is their home arena.
The temporary 1.968-mile circuit set in Long Beach's downtown is a short drive from Mazda North American Operations and Mazda's Research and Design facility in Irvine. The Mazda RT24-P is an example of the deep ties that connect Mazda and its motorsports activities, as its aerodynamic design – which incorporates Mazda's KODO design language – was designed at Mazda's Research and Design facility. The team and drivers will take part in numerous activities at Mazda's facilities leading up to the Grand Prix, and Mazda will host a large number of employees for Saturday's race.
It was twelve months ago at Long Beach that the Mazda RT24-P recorded its first podium finish in the IMSA WeatherTech SportsCar Championship. One year on, Mazda Team Joest arrives at Long Beach fresh from a strong performance at the 12 Hours of Sebring where the team led throughout the race and set a lap record for the IMSA Prototype class. Riding that wave of momentum, the team's four drivers – Jonathan Bomarito, Oliver Jarvis, Tristan Nunez and Harry Tincknell – are eager to get back behind the wheel of the No. 55 and No. 77 Mazda RT24-Ps.
The Grand Prix of Long Beach represents one of the most action-packed races on the IMSA calendar. Passing opportunities are limited on the temporary waterfront circuit that circles the city's Convention Center and runs past the world-famous Aquarium. Running for only 100 minutes it is also the shortest race on the calendar, and with 22 cars on track lapped traffic and pit stop speed will play an outcome in the race.
The Bubba Burger SportsCar Grand Prix at Long Beach will be broadcast live on FOX on Saturday, April 14 at 4:00 PM ET.
Mazda Team Joest fans can follow the team at @MazdaMotorsprots on all social media platforms.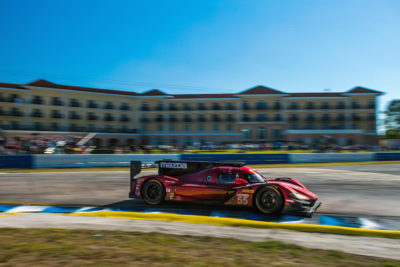 Quotes
John Doonan, Director, Mazda Motorsports
"Saying we have a home court advantage is a bit strong, but we are absolutely thrilled to be heading to Long Beach to race in front of so many Mazda fans and employees from our corporate office just south in Irvine. We are headed to Long Beach with every bit of momentum we gathered at Sebring and are going to try to leverage it over the 100 minutes we have to battle on Saturday. Long Beach is a tricky race, but we are certainly going there looking for that first podium of 2018. I can say with tons of confidence that all of our partners, drivers and team members are ready to go."
No. 55 Mazda RT24-P
Jonathan Bomarito
"Long Beach is a very special race for many reasons. It's so close to the Mazda North America Operations and I always have lots of friends and family to cheer us on. Mazda Team Joest has good momentum from a very successful Sebring performance, and Tristan and I were on the podium last year at Long Beach, so I am expecting to be fighting up front. Long Beach is a tough race even though it's only a 100 minutes – you are pushing 110% the whole race!"
Harry Tincknell
"I'm really looking forward to my debut at Long Beach next weekend. It will be my first IMSA race outside of Florida! I haven't raced on a street track since 2013, but I will be as prepared as possible having been on the Multimatic simulator in Toronto and I've watched back a lot of the footage from last year. I'm very hopeful of a good result in front of lots of Mazda employees and fans. Last season, the guys took home a podium and with all the updates on the car we should be more competitive this time around. I was delighted with Sebring and the hard work that was put in by everyone at Mazda Team Joest and with another four weeks of work under our belts, hopefully we can take another step forward this weekend."
No. 77 Castrol/ModSpace Mazda RT24-P
Tristan Nunez
"I always look forward to Long Beach. It's a beautiful track that's rich in history and it's been pretty good to us in years past. Having been able to get on the podium last year with the old configuration of the Mazda RT24-P gives me great hope for what we can pull off this year. It's going to be a tough race – it always is. Qualifying is important and with only two short practice sessions, getting the car setup right is essential. I have no doubt the Mazda Team Joest boys can give us a race-winning package."
Oliver Jarvis
"I can't wait for Long Beach. It is a race that I have watched many times over the years on TV and it's a track that I have always wanted the opportunity to drive. After such a strong performance by the Mazda RT24-P at Sebring, and Mazda's podium at Long Beach last year, we are heading there confident that we can fight for the win. It's an important weekend as it's our home race with a large number of Mazda employees attending, so it would be amazing to give them something to cheer about!"
Mazda Motorsports
Mazda Motorsports boasts the most comprehensive auto racing development ladder system of any auto manufacturer in the world. The Mazda Road to 24 (#MRT24) program offers a number of scholarships to advance drivers up the sports car racing ladder, beginning with the MX-5 Cup series and culminating with the Mazda Prototype team. The Mazda Road to Indy (#MRTI) is a similar program that includes Mazda-powered categories of USF2000, Pro Mazda and Indy Lights. In grassroots road racing, more Mazdas race on any given weekend in North America than any other manufacturer. Follow all of the latest news at MazdaMotorsports.com, @MazdaRacing on Twitter, and MazdaMotorsports on Instagram and Facebook
Mazda North American Operations
Mazda North American Operations is headquartered in Irvine, California, and oversees the sales, marketing, parts and customer service support of Mazda vehicles in the United States and Mexico through nearly 700 dealers. Operations in Mexico are managed by Mazda Motor de Mexico in Mexico City. For more information on Mazda vehicles, including photography and B-roll, please visit the online Mazda media center at InsideMazda.MazdaUSA.com/Newsroom.
Follow MNAO's social media channels through Twitter and Instagram at @MazdaUSA and Facebook at Facebook.com/MazdaUSA.