Robert Hess aims to spread the word about prostate cancer and early detection, and one of his tools is the MX-5 he uses for autocross and track days
Robert Hess calls himself the "accidental prostate cancer survivor." It's a small twist of fate that got him the correct diagnosis, and it's why he's trying to spread the word about early detection, at least partially through the brightly-wrapped MX-5 that he's going to be taking across the country this summer.
"I'm a 15-year prostate cancer survivor, and I'm here because I took this funky little PSA blood test and it showed I had an elevated PSA level," the Manhattan Beach, Calif., resident explains. "PSA stands for Prostate Specific Antigen; it shows up in a blood test, and if it's elevated, it's an indicator that you may have prostate cancer. It's not absolute, but it's a pretty strong indicator. I survived that, and I'm kind of an analytical guy, and I looked at all my past PSA tests and I said, 'Should I have known this?' I took all that data, dropped it into an Excel spreadsheet, put a trend line on it and, lo and behold, I could see the increase from year to year. Then I did a little research and basically 240,000 guys a year are diagnosed with prostate cancer, and somewhere between 28,000 and 29,000 men every year die from the disease. Most often its because they don't know they have it early enough for effective treatment. Prostate cancer doesn't really have any symptoms until it's advanced."
Armed with the knowledge of his own experience, and with the fact that he had a software company, he created an online tool at ProstateTrackerApp.com, where men can create an anonymous account, put in the results of a PSA test, and 11 months later it will remind them to take another one. Once those results are entered, the system graphs it. If it's rising, that means they should go see their doctor.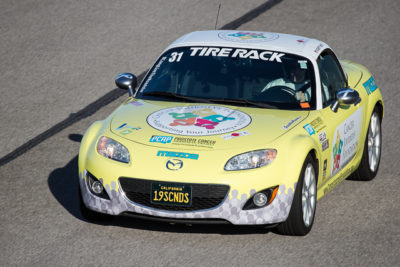 Once he created the tool, the next step was to get the word out. The first outreach was to cyclists, since Hess was an avid bike racer. Then he happened to be at the LA Auto Show when the MX-5 Cup car was introduced. He had autocrossed when he was stationed in Germany in the military, and the MX-5 Cup car lit that fire again. While that race car was a bit out of reach, he found a 2010 MX-5 with the retractable hardtop and decided the automotive community was a good way to reach men about prostate cancer. He put a bright yellow wrap with information on it and got a personalized plate that reads "19 sec," because there's a new cancer survivor every 19 seconds. He now autocrosses that car, including some SCCA ProSolo events, and does other things with it, such as running it at an SCCA Track Night in America event at Auto Club Speedway, which is where MazdaMotorsports.com caught up with him.
This summer he intends to take the MX-5 on a cross-country trip, hopefully reaching out to Mazda clubs along the way, hitting the ProSolo event in Lincoln, Neb., and conducting daily media events. "If we can just get 30 seconds about the prostate cancer message, that would be huge," he says. Trips like this, along with creating the non-profit Cancer Journeys Foundation, are all part of giving back.
"I call myself the accidental prostate cancer survivor, because when I was diagnosed, my doctor said, well, my PSA was within 3.8, that's within the normal range, don't worry about it. But in actuality I already had two tumors in the prostate. Had it not been for a second oncologist who took me through this second blood test, we probably would have not have found those and I would be pushing up daisies somewhere.
"I think somehow everyone gives back to society, [and] the universe says this is what I'm supposed to do for our community. That's why the nonprofit and the car."
For more information, see www.cancerjourneysfoundation.org.