After honing his skills in Skip Barber and Spec Miata, young Pennsylvania racer sets his sights on the pro ranks
There is much to be said about starting young. It's generally agreed that if a racer wants to make it to the top of the professional ranks, he or she better start in karts at an early age. Robert Noaker did that, at age 5, but he moved on to cars much earlier than many, and at 14-years old he's ready to make his debut in the Idemitsu Mazda-MX-5 Cup presented by BFGoodrich® Tires.
Noaker moved to the Skip Barber Racing Series two years ago, and last year raced in Spec Miata with NASA. And he raced a lot. His father, Bob Noaker, says the Pennsylvania driver put 10,000 racing miles on his Miata over 16 weekends and 32 races with four wins. He finished the year off running with John Dean and Sick Sideways at the 25 Hours of Thunderhill in a MX-5 Cup car.
"His dream is endurance racing," says Bob Noaker. "That was the very first opportunity and the first endurance race he could do. He's not old enough to do any other kind of endurance racing. Being NASA, and that he has his competition license, he was legal to do that race, and he wanted to do one at a real young age."
Bob reports that Robert put in some fast laps in the dark, prompting jokes from the other drivers that they could go as fast if they had 13-year-old eyes.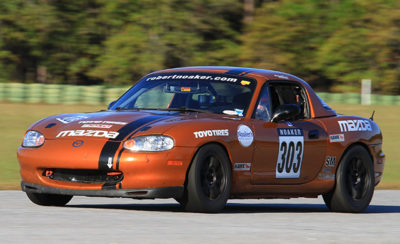 While Bob raced as a young man, and his father raced stock cars, Robert didn't grow up around it. But when he was 5, he asked for a kart, and won a lot of races. Now the plan is to run with Dean's Sick Sideways outfit in MX-5 Cup. It's the natural progression of where he's been and the reasoning is simple: "It's the same reason we've chosen everything else up to this point in time – it's the best competition we can put him against at his age. That's why we got into NASA, why we went to Skip Barber," says Bob.
Robert probably won't continue in Spec Miata in 2018, at least not much. Running as much as he did in 2017 took a big chunk out of the racing budget, but they felt it was necessary.
"My goal was to get him as much track time as possible. I really feel like at a young age, there are certain things you can absorb, and when you're older you lose that ability. We did as much as we could in one year to try to gain as much as we could. I think it was worth it for the experience."
Aside from the 25 Hours, Noaker just had his first experience in the MX-5 Cup car at a test at Barber Motorsports Park, where Bob says he was the fastest of the team cars. When the series lands at the Alabama track for its official test, Noaker will have the chance to prove what he's got against the full series field.
The 2018 Idemitsu Mazda MX-5 Cup season begins March 23-25 at Circuit of the Americas.