Young Spec Miata racer took the SCCA Runoffs championship at Indianapolis Motor Speedway
Preston Pardus hadn't won any big races. Although he'd been running his Spec Miata up front in the incredibly competitive Southeast Conference, he was still looking for that first SCCA Majors win. Whether he wanted to wait or not, when it finally came, it was the big one: the National Championship Runoffs.
Pardus, the son of former stock car racer Dan Pardus, wasn't on anyone's radar to win the thing. Even well into the race that featured a six-car battle for the duration, and even though he qualified second and had led some laps at two different times, a win looked like a long shot given the company he was running with. As the leaders went under the starter's stand for the penultimate time, Pardus, running third, moved to the outside of Danny Steyn and leader Selin Rollan and braked late into Turn 1, taking the lead and holding it for the duration of the final lap.
"Going in, we thought it was going to be a little different … well, I did, and I think a few other guys did, too," Pardus admits. "With how Indy is laid out, you have the long front straightaway; but I kind of expected that through the infield you could maybe do a two-car or three-car breakaway. That wasn't the case. It really depended on who was in your pack [and] who was able to push you. So it really changed the racing. I did not expect it to be eight cars … in the end I think it was six cars. But we were all on top of each other for 19 laps."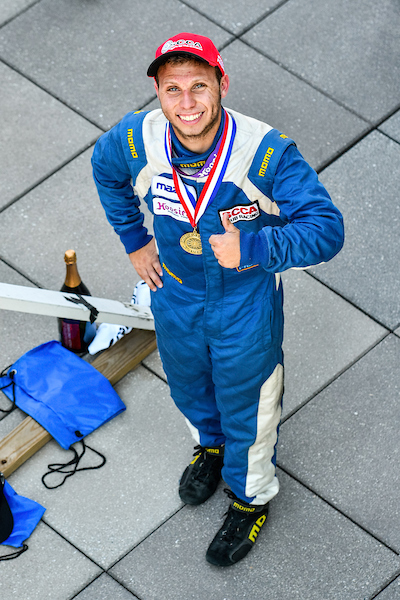 Pardus credits his success partly to coaching from teammate Todd Buras and the fact that Indy was a new track to everyone. No one had an edge by knowing the course, and Pardus says he thought it fit his style.
"There are obviously some sections where drivers differed. I would say the F1 loop, you could do two different lines, and I thought I'd developed a pretty cool line where you would hug the corner. All the other people would arc it, and it really set me up nice for the next section. The track fit me in a way where I could really back up my entries and make sure to have solid application out," he explains.
Pardus grew up in Florida, just a short drive from Daytona International Speedway, as part of a racing family. His father raced ARCA and NASCAR, and Pardus started out racing quarter midgets. But to continue on that oval racing path was very expensive. Fortunately, he and his family discovered Spec Miata through some friends.
"It has all the steps, really," he says. "You've got the good drivers, a spec class, so it's really the best form of racing for the club racer. And Mazda has a lot of involvement. You really have to focus on your driving because the cars are spec. At the end of the day, it's more the driver than the car."
As a result of winning the SCCA national championship, Pardus was invited to participate in the Mazda Road to 24 Shootout, and made it to the driving portion at Bondurant's facility in Chandler, Ariz., along with friend Rollan, fellow Spec Miata racer Tyler Kicera and iRacing champ John Allen. While he didn't earn the season in MX-5 Cup, he thought it was likely he would continue in Spec Miata anyway, so there's a good chance he'll have another shot at the Shootout. In the meantime, the 20-year old is a part-time student at Daytona State Community College and working part time with his father in his utility company.
But it's already racing season again in Florida with the Homestead-Miami Speedway SCCA Majors and Sebring Hoosier Super Tour completed, with Pardus taking wins at each . So while the Runoffs may have been Pardus's first big win, you can be pretty sure it won't be his last.