The Wisconsin prep shop is a powerhouse in the Spec Miata world
You've likely seen Advanced Autosports Spec Miatas if you've raced anywhere in the Midwest. Dave Wheeler and his crew support a fleet of rentals and many more customer cars. They prepared a car for Julian Garfield, the Mazda Solo Advancement Scholarship winner, supplying him with the Spec Miata he raced this season in his first season of national-level road racing.
"I've got about 45 cars in the shop right now," Wheeler says. "Probably 37 of them belong to customers, and the rest of them belong to me as rental cars and my personal car. We averaged, for 2017, probably 11 or 12 cars a weekend."
For most of those, Advanced Autosports is providing pre-race prep, transport and trackside support. But not everybody needs every service. Wheeler says some customers will take their own cars to the track and handle the minor stuff, letting Advanced Autosports take care of the big stuff. The shop does everything in house except for bodywork and engines, for which he uses Chris Haldeman's X-Factor Racing.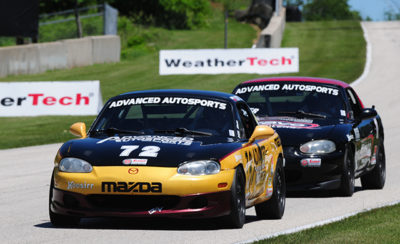 Speaking of the big stuff, Wheeler is happy to build a race car for a customer. "We probably build between five and 10 cars a year," he says. "We're probably the only prep shop in at least this half of the country that also has a significant parts business, which kind of sets us apart from everybody. Now you can build a car off my shelves. I have everything from lug nuts to wheels to gasket sets to the specialty parts that we make."
Wheeler has also added a MX-5 Cup car to the mix, for SCCA Touring 3 rentals. And, of course, Advanced Autosports is happy for someone to run their SMs in STL. The shop regularly helps customers running SCCA, Midwestern Council of Sports Car Clubs, and now SVRA. In fact, Wheeler and company have a car they built specifically for SVRA Mazda Miata Heritage Cup.
A new thing for Advanced Autosports is supplying cars for the LevelUp Racing School for its schools that are run in the Midwest. "I've known Pete [Stolz], the owner of LevelUp, for about 10 years," says Wheeler. "It was a natural fit for us to work with them on their Northern stuff, because they are based out of Wisconsin like we are. We did their first two events at Blackhawk and Road America and plan on doing six or eight next summer.
Advanced Autosports
Beloit, Wis.
www.advanced-autosports.com