Spec Miata frontrunner walks away with a scholarship to compete in MX-5 Cup in 2018
Selin Rollan has been a frontrunner in Spec Miata for the last several years. This year, Rollan finished second in both the SCCA National Championship Runoffs and the NASA Eastern States Championships, earning an invitation to the 2017 Mazda Road to 24 Shootout. On Dec. 8, Rollan, SCCA Spec Miata champ Preston Pardus, Tyler Kicera and iRacing champ John Allen gathered with a pair of Mazda MX-5 Cup cars at the Bondurant Racing School facility in Chandler, Ariz., to see who would earn a $100,000 scholarship to compete in the Idemitsu Mazda MX-5 Cup presented by BFGoodrich® Tires – Rollan walked away with the prize.
"I'm a little teary eyed, honestly," said Rollan not long after the announcement that he had won the shootout. "I was in shock. It's a very big honor to win this Mazda Road to 24 Shootout. I don't think it's sunk in yet. I was just talking to my parents on the phone, I definitely shed some tears of excitement, and they shed some tears as well – I could hear it in their voices. I'll be excited to move forward with this."
Rollan had to beat some good friends and tough competitors to earn the scholarship. Three of the finalists are Southeast Spec Miata racers, so they race head to head often.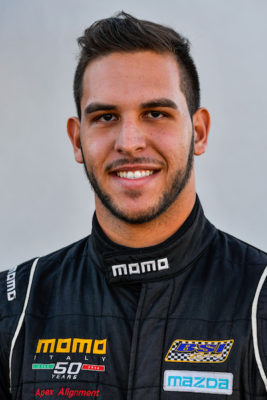 "The lineup was stacked. It was fun with Preston; Preston is one of my best friends, we race so much together. Tyler is a very fast, fierce competitor, and John did an amazing job for how little experience that he has and coming from iRacing. It's crazy how fast John is on iRacing, by the way," said Rollan.
For the Shootout, each competitor had several sessions in one of the two MX-5 Cup cars, ballasted for equal weight and always on each driver's own set of BFGoodrich tires. Aside from watching times, the judges – former IndyCar racer and now television commentator Scott Goodyear; Mazda Team Joest driver Jonathan Bomarito; IMSA Continental Tire SportsCar Challenge competitor Andrew Carbonell; and Tom Long, who did much of the development driving on the MX-5 Cup car and has spent several seasons competing in Mazda GT cars and prototypes in IMSA – watched from various spots around the 1.6-mile track. After each session the judges provided feedback and watched how the drivers responded to that feedback in the next session. Through that, they saw some clear indicators that told them Rollan would be successful in MX-5 Cup.
"For me, it was the approach," says Goodyear. "Getting in the car, thinking and programming himself when he left pit lane. He had a plan when he left pit lane. I always tell people, 'Find some quiet time when you slide in the cockpit and you put your helmet on, and you already have a plan about what you're going to do out there.' I saw that clearly. And he was fast, and the car control was exceptional. When he tried something and the car started going out from underneath him, there was no panic in it."
"I think the biggest thing we saw was just average pace," adds Long. "His outright pace was strong every session. Another factor is a kind of consistency of the average lap time relative to the fast lap and kind of seeing adjustments and learning throughout the session – trying to make a change to something, then trying something else and actually progressing as the run goes on. It's not just increasing speed, but physically trying different things whether it be brake points or gear changes or lines."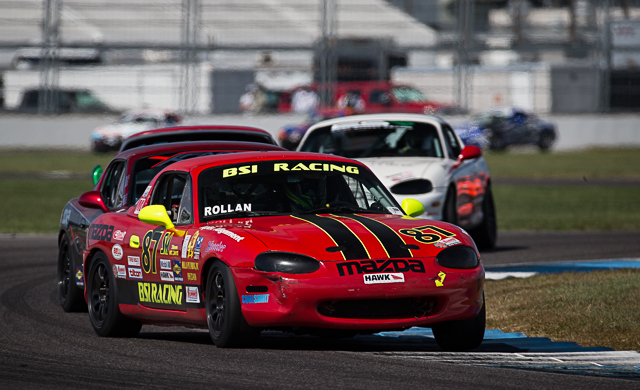 Rollan left Arizona on a plane with Pardus back to Florida where he went straight to work at his job selling cars at Classic Mazda in Orlando, a dealership that boasts enthusiasts like Heath Patterson and Chad Rogers among its staff. It's likely they'll understand when he needs time off to go race in MX-5 Cup. "I've been talking to customers about this and they've been giving me their best wishes," Rollan says. "It's exciting to talk about and point to the car in the showroom and say, yeah, that's what I'm racing."
Now he has a few decisions to make about how he will approach his rookie year in the Idemitsu Mazda MX-5 Cup, but he thinks he's made one big decision already.
"We're thinking about purchasing a car," he says. "My dad and I do a lot of work on the cars, he likes to work on the cars down in Miami. At that point we have unlimited testing. Testing is expensive, to go out on a weekend when it's not an MX-5 Cup test. We can go out to a regional weekend and test all we want. As far as teams, there are a lot of options for sure. There are some local ones and some very proven teams. We've just got to weigh the options and see what's going to best suit us and our program."
As the winner of the Mazda Road to 24 Shootout, there are some big expectations heaped upon Rollan's shoulders. Now the hard work of meeting those expectations begins.