Wilcox drove Eric Anderson's Miata to the Super Street Modified SCCA autocross title in 2017, claiming his first national championship
Randall Wilcox has it pretty good. He gets to drive someone else's car, and it's a car capable of winning an SCCA national championship. But he still has to do the work behind the wheel, and in 2017 he did his best work, taking the Super Street Modified title in Eric Anderson's Miata at the Tire Rack SCCA Solo National Championships in Lincoln., Neb.
Wilcox started autocrossing 16 years ago in an H Stock car. He ran his own cars for a few years, then started co-driving with other people. He earned a few trophies in X Prepared at the Solo National Championships, but the car he was driving had chassis damage, so he had to find a new ride. As it turns out, fellow SCCA Tennessee Region autocrosser Anderson was developing the right car, a 1996 Miata. "Eric and I teamed up and we've been driving together pretty regularly ever since," says Wilcox.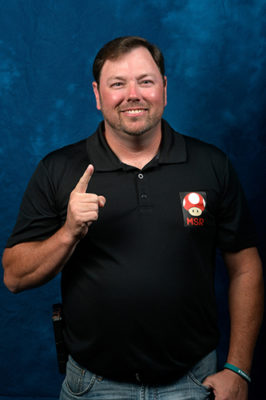 "Eric has just continually developed this car, and we've been on the cusp for the last three years, easily. For me, personally, the previous two years, I had kind of gotten myself into cone trouble on day one; the first two runs were either mediocre or dirty, so the third run on day one, it has to be clean. You can't go for it on that third run if it has to be clean. This year I tried to take the strategy off getting that solid run in on run two, and was actually able to execute this time, so on the third run I could afford to be more aggressive. That kept me within shooting range of [Matthew] Glagola, who put in two blistering runs on day one," explains Wilcox, an audiovisual technician from Clarksville, Tenn.
Wilcox was behind by a little over two-tenths of a second after the first course was finished. On the second day, though, he was quickest. Glagola, who finished second, only had one clean run, which was his first, but even without the cones wouldn't have been quick enough. Wilcox put in that solid second run that would have earned him the win, but went a half-second quicker on his final attempt to seal the championship.
"It's amazing. It's still kind of soaking in for me," he admits. "It's still hard to believe we actually made it. It's nice to validate all of Eric's hard work and effort and time he put into that car, especially the engineering he's done on that Miata. When he first started that project, he was told by pretty much everyone that a Miata could not get it done in SSM. That was one of the things that drove Eric to push this car to the limits that he has."
Wilcox plans to continue driving with Anderson in 2018, and Anderson has some designs on making the car even better. We'll take a closer look at that car in the near future.