Longtime racer finds success in Touring 4 in a 12-year-old RX-8
Don Knowles has a long and storied history in production-based sports car racing. A six-time SCCA national champion, he also has a number of wins in professional racing, mostly in the Escort Endurance Series. Knowles holds the world record for 24-hour race victories; he's won 14 of them. He won three 24-hour races in 1987 and again in 1988. He's a winner of the Road Racing Drivers Club's prestigious Bob Akin award, a talented writer who produced many of SportsCar magazine's Hot Lap articles and a stalwart in the industry. But in all those years racing a variety of cars, Mazda had not featured until last year when he started running an RX-8 in Touring 4. In 2017, he won the SCCA Southeast Conference T4 championship and was the quickest Mazda qualifier at the 2017 SCCA Runoffs.
His journey to being one of the fastest club racers in an RX-8 started in the winter of 2014. Knowles has a long partnership with Joe Aquilante at Phoenix Performance and asked him if he had some kind of car he could race in 2015; Aquilante had an old Firebird sitting in a cargo container out back. Knowles got the car running and class legal, but it wasn't really competitive. Then he tried a Mustang, but couldn't get that up to par, either.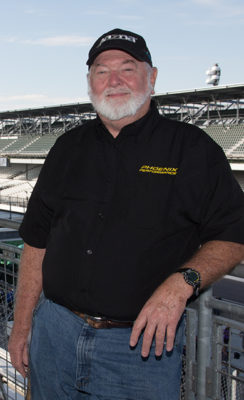 "While I was running that car, I got to see some other cars and I said, 'You know, that RX-8 looks like it runs good; looks like it stops good,'" he says. "I talked to a friend of mine, Lance Stewart, and he said the car had great brakes and was a good car at all sorts of tracks. So it turns out one of Joe's guys built this car back in 2007. It's a 2005 RX-8 and had 1,800 miles on it. We had to put springs, bar, shocks and a diff in it. We went to the Runoffs in it [in 2016] and finished sixth. We won a bunch of races and I have really enjoyed it.
"Drew Spoto and his wife Andrea own the car. Drew has worked for Joe as a mechanic on race weekends for years and years and years. Plus, Hoosier tires and Hawk Brakes have been good to us for a long time. I'm really confident in my tires and brakes, and I'm confident in our handling and reliability," he adds.
Knowles describes the car as reliable, competitive and easy to maintain. Knowles won six of seven races he started in the Southeast and won the T4 title. At the Runoffs, he qualified fourth, the fastest of the RX-8s and MX-5s in the field. However, a spin during the craziness of the first lap caused him to fall back, so he spent the next 18 laps working his way back through the field, making it all the way to sixth.
Knowles doesn't yet know what his plans are for the 2018 season, or whether he'll compete at the 2018 Runoffs at Sonoma Raceway. Part of that depends on what adjustments are made by the SCCA to the T4 cars in the off-season – but with the success he's had in the RX-8 in such a short period of time, we wouldn't be surprised to see him resetting more records in the car once more.