A host of Mazda competitors seek to stand on top of their respective classes after 25 hours of NASA racing
What started as a simple idea to have the longest endurance race in the U.S. has taken on a life of its own and, 15 years later, has blossomed into a significant U.S. racing event. The National Auto Sport Association's 25 Hours of Thunderhill presented by Hawk Performance has not only attracted pro racers, it has also become a proving ground for manufacturers, including Mazda. It was the first race in which the MX-5 Cup cars competed, and last year Mazda brought diesel-powered Mazda6s to test in the twice-around-the-clock-plus-one-hour classic. While Mazda has no official presence for the 2017 edition running this weekend, Dec. 2-3, several Mazda teams will be competing, including a couple of previous winners.
The E2 class wins in the last two 25 Hours have gone to the Robert Davis Racing team driving "Kermit," a green and silver Mazda RX-8. That car has since been retired and the team has a new RX-8. It will be the only rotary-engine-powered entry on grid. Team driver Jeremy Barnes says the team has taken everything it learned from racing "Kermit" over the years and poured all of that knowledge and experience into the new car, which the team has been quietly developing this year.
Although rotary engines make prodigious power relative to their displacement, their fuel economy presents some challenges in endurance racing. With a stock fuel tank that holds 16.9 gallons, the team has to stop every hour to refuel. Barnes says the team incorporates fuel consumption into its strategy.
"We know we're a lot more fuel thirsty than any of the cars that we run against, so it's making sure that the rest of the package is so good that we don't have a reason to stop other than putting fuel in the car and doing driver changes and tire changes," Barnes says. "So, if we can stay out of the pits and stay on track as much as possible, and just take care as much as we can the weaker points of the car, then we think we're going to be in a good place, and we certainly proved that the last few years with Kermit."
The team's driver lineup includes Barnes; 25 Hours veterans Jim and Dennis Holloway and Lee Papageorge; and Mazda's longtime IMSA driver Joel Miller.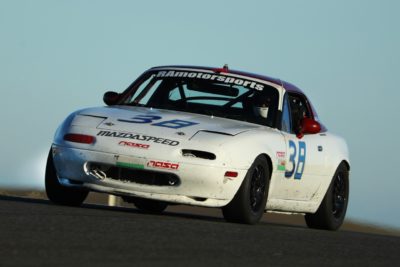 Team RA Motorsports owner Ron Gayman has two wins in the E3 class (2015-'16), and he's bringing the same two Mazda Miatas again this year. "This year, we hope to gain a few seconds in lap pace, and be more competitive," he says. "We were not competitive in lap times last year. The fastest in the class were running 1:59s and we barely did a 2:03."
Gayman notes that luck plays a role in the 25 Hours of Thunderhill, and that he'll take it when he can get it – but there's much more to winning than good fortune. "People say it's all about luck. Well, luck is in the preparation," he says. "The simple thing is I put new parts on the car that we consider wear items or break items. We put new hubs, fresh brakes and rotors and a fresh motor, typically.
"Last year, we got lucky," he continues. "We were the only one that didn't break. We would have had a one-two finish if our other car hadn't broken."
Derrick Ambrose, owner of Corksport Performance, has helped out the official Mazda teams the last few years, but this year he's bringing the Mazda3 that he normally campaigns in SCCA Touring 4 to compete in the 25 Hours with a few upgrades. In addition, there will be a trio of MX-5 Cup cars entered in E3 – two from Florida's Sick Sideways and the other from Trim-Tex Racing. Other Mazda entries include E3 class Miatas from RJ Racing, Neth Racing Works, A+ Racing and Brown/Heyer; and Good Times Racing 2 is entering E2 with a Miata. Ice 9 Motorsports/Valkyrie Autosport is the lone Mazda-powered Elan NP01 entrant.
SaveSave