Battling more than other racers, Dernehl shows what perseverance really means
One of the greatest things about racing is that there's always next year. Most racers don't appreciate that nearly enough, but Jeff Dernehl of Roswell, Ga., will be one of those who appreciates the chance to get back in the driver's seat and try again.
Dernehl started his racing career decades ago, when there was all the time in the world to go racing. "I dabbled in it when I was very young, with go-karts," Dernehl says. "Then a friend of mine owned an auto parts store, and I was working on cars out of my dad's little tool and die shop. He asked if I'd like to race a car together, so we bought an Opel Manta. I raced it in Midwestern Council and he raced it in SCCA."
After taking a break to raise his family, Dernehl decided to get serious and he bought a Mazda RX-7 for SCCA national competition.
"In 2001, I went to a driver's school and started over," Dernehl explains. "I won the Southeast Championship, and then I moved into national racing with the first-generation RX-7. I finished third at the SCCA Runoffs the very first time I went."
Dernehl raced in E Production through 2006 and then evolved the car into SCCA's GT3 class, with some inadvertent help from another racer.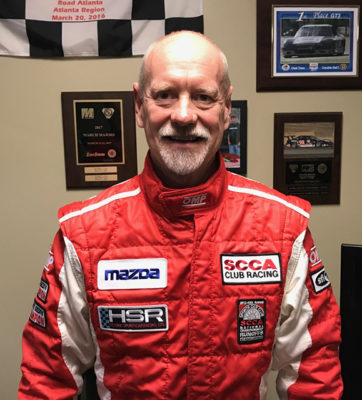 "I was at Road Atlanta running a regional race and somebody on the start got crazy," Dernehl recalls. "He bounced into the wall, hit another guy, that guy hit a different guy, who bounced into the wall and shot over and hit me. All of a sudden, I was flying in the air about 12 or 15 feet up, and it came down on its nose and bent the car in half."
By the time repairs were done, Dernehl's Mazda was a full tube-chassis GT car. He earned second-place finishes at the 2011 and 2012 Runoffs in the car, and then sold it to take another break from racing.
"The car was pretty much at its top level," Dernehl says. "I put it out there and I got a phone call and it went to Texas. It stayed in Texas for three years, and then I got it back. I ended up stripping it down and pretty much starting over. We painted it a new color scheme this year and we've done a lot of upgrades. It's super fast."
The plan was to campaign the car in 2017 and attend to the Runoffs, but the season hit a major snag. "I've had diverticulitis for 15 years and I get a little flare here and there," Dernehl says. "It flared all of a sudden this year, and it did something weird this time. All of a sudden, I got a fever, a horrendous fever. I went home and started shaking like crazy."
Dernehl's insides had broken open and he was suffering from a case of sepsis. "Six days of three intravenous antibiotics and, you know, I got out of there and it about killed me," Dernehl says. "I lost 50 or 60 pounds in a month and a half, and I slowly recovered. I could barely function – and sepsis damages your organs."
Many other racers would have waited for next year, but not Dernehl. "Get this," he says. "Three months after that attack, I had my car up and running and went to Road Atlanta and beat the 2016 national champion!"
When the Runoffs convened on Sept. 25, 2017, at Indianapolis Motor Speedway, Dernehl was there – and he did extremely well, qualifying third and finishing second, albeit in a battle that saw less than a one second spread between himself and third-place finisher Stacy Wilson in an RX-7.
"My car has evolved quite a bit from 2012," he says. "But when you're out of the program and out of touch for a few years, all the other guys kind of evolve too."