Determination and prep, as well as friends and family, keep Ali Naimi running up front
Ali Naimi just simply will not quit. The California driver has been racing at SCCA's National Championship Runoffs for nearly two decades, competing in Showroom Stock and now in Touring 4. In his 18 attempts, Naimi has stood on the podium three times, with a third place finish in 2009 and back-to-back second place showings in 2011 and 2012. On his way to that second place finish in 2012, he set a new lap record for Showroom Stock C at Road America.
"But I've never finished first," Naimi admits.
Like many West Coast racers, Naimi learned his craft running regionally at several legendary tracks. "I think I just went to my first SCCA event back in the late 1980s, and I went to driver's school in 1990," he recalls. "I started racing nationally in a 1995 Miata in SSB. I ran that for a couple of seasons, went to the Runoffs and from there I ended up in a Protegé and then in a Mazda3, and now I'm racing an MX-5 in Touring 4. I love racing Mazdas!"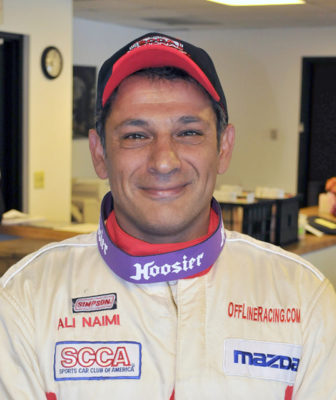 Naimi's roots in the sport go deep, to a particular event in his youth. "As a kid, my first race was when my family took me down to Mazda Raceway Laguna Seca," he says. "I didn't have a car. I was 14 or 15 years old. My brother, my dad, my mom, everyone dropped me off, and at the end of the day I was calling them to come pick me up. It's surprising that I'm the only motor head in my family!"
When he's not driving his car, Naimi works as an IT program manager in the bay area. "I used to be an aircraft mechanic," he reveals. "Then I went to IT as a network engineer and got laid off when the market crashed. For a while, I became a construction supervisor. Then I went back to IT and now I'm a program manager."
At the SCCA Runoffs, Naimi always brings his familiar Offline Racing team to support his efforts. "At Indianapolis [we had] three Offline Racing cars sharing our tent area," he says. "There's my normal crew people who rotate throughout the weekend, and my crew chief is Mike Thygeson from Arizona. He was my driving instructor when I went to driver's school in 1990. He was racing long before me, so he's probably got 40 years in the sport."
With the support of his team, his wife and his daughter, Naimi continues to compete in search of the championship that has eluded him so far. But regardless of where he is in the pack, one thing you can count on is that Ali Naimi will be there racing as hard as he can.