Indy Lights champion decided to give MX-5 Cup a go with the Mazda MX-5 Cup Challenge at Mazda Raceway
Shortly before announcing that he was parlaying his Indy Lights Presented by Cooper Tires championship and the resulting Mazda scholarship into some IndyCar Series races with Juncos Racing – including the Indianapolis 500 – Kyle Kaiser got a taste of something a little slower, but no more sedate. Lured by the possibility of a $75,000 prize, Kaiser entered the Oct. 12-15, 2017, MX-5 Cup Challenge at Mazda Raceway Laguna Seca.
Even though that prize would only get him a test day in an Indy car, every bit helps when you're trying to put together a season at the top level of American open-wheel racing. Plus, it should be fun.
"The second I heard the prize, it was a no-brainer," Kaiser said before the race weekend. "It's my home track. It's kind of a steep learning curve since I've never driven this car before. I have seen that these guys out here are no slouches – these guys are really, really good and they know what they are doing. So I didn't expect to come here and mop everyone. I have watched the races all year and I know it's close racing."
Kaiser won three races and finished on the podium five more times in taking the Indy Lights title for Juncos Racing. Now that he's moving up with the team for at least a partial season in 2018, it marks the first time that an Indy Lights champion moves up to IndyCar with the same team. Kaiser has been with Juncos since 2014 in the Pro Mazda Championship. That's a lot of time in open-wheelers, so racing a production-based car was a little unfamiliar.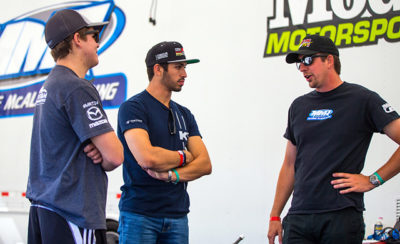 "It's very different from anything I have ever driven," he explains. "I drove a Spec Miata two years ago – that's the last time I drove an H-pattern race car. Even that car was so different from this car. The gearbox is a little tighter; I found it tough with the clutch…and was having some trouble with my shifting the first couple of sessions. Once I got that down, it's a whole new thing learning the brakes with the ABS."
Kaiser says he found that while the MX-5 Cup car is slower and gave him some more time to think in places, he didn't really get the sensation of going slower as he qualified his McCumbee McAleer Racing MX-5 sixth and seventh for the doubleheader races.
"The biggest difference is on the straightaways – you just have a lot more time. Where in the Indy Lights car you feel like you have no break, in this one I find I have a lot more time to think and process stuff on the straightaway. I find myself looking down at my dash more. I'm like, 'Wow, why don't I do this in my Indy Lights car? Oh yeah…it's because I have no time to look at the dash!' But I don't feel like I'm going slower because I am on the limit of the car throughout the lap," he says.
Kaiser ended up 15th in the first race and sixth in the second.
His 2018 Verizon IndyCar Series schedule will include the Grand Prix of Indianapolis and the Indianapolis 500, along with at least two more races to be named later.