Mazdas abound in the two Super Touring classes at the 2017 SCCA Runoffs, and drivers in both have a good shot at the podium or the win
At the 2017 SCCA National Championship Runoffs set to take place Sept. 25- Oct. 1 at Indianapolis Motor Speedway, the Street Touring category continues to grow, and the competition looks tough. But despite there being 94 cars entered between STL and STU, a host of Mazdas are the favorite to win.
Half the cars in Street Touring Lite are Mazdas, most of them NA and NB Miatas, with a few NC MX-5s and RX-7s in the mix. While many will say that the rules favor another marque in STL, the track may tilt the scales back toward Mazda racers.
Certainly the favorite among Mazda drivers in STL has to be Nick Leverone. He's won quite a few races this year in his Flatout Motorsports Miata, finished fourth at last year's Runoffs and was picked by SportsCar magazine to podium. He took a double victory at VIR, which seems to be one of the benchmark Majors races this year, where he beat one of the favorites in the class. However, when he's been beaten this year, the one taking the victory has been Danny Steyn. Steyn built his STL NC Miata specifically to get more track time, and he's one of several in this class to race in both Spec Miata and STL. Steyn is certainly a threat to be at the top.
There are a lot of Mazda drivers who could figure into this race, though. James Goughary (1994 Miata), Ken Kannard (1990 Miata), Craig McHaffie (ex-Grand-Am 2008 MX-5) and Luis Rivera (1990 Miata) could all be factors in the race. The STL race is scheduled for 1:30 p.m. on Saturday, Sept. 30.
In STU, the absolute numbers and the number of Mazda entrants drops, but some of the same names pop up. Luis Rivera was picked by SportsCar to podium, and competitor John Weisberg says he's one to watch: "When his car is running, he's got that tried and true rotary power in a Miata, and [I] think he's a bit of a dark horse if the car can stay together," Weisberg says.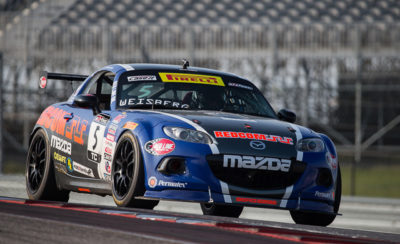 Weisberg will be taking his World Challenge Touring Car NC MX-5 to Indy, but he'll change a lot for the Runoffs to make it a true STU car. He's running a 2.3-liter engine, which will allow him to take out a bunch of weight, and he's beefing up the front splitter (although he loses some rear wing in the process). His wife, Dinah, is taking a break from World Challenge this season due to the demands of a new position at work, but had time to do some Club Racing with her World Challenge-spec MX-5. John decided to join her despite running a full season of World Challenge, and he has to be considered a threat.
"I've been watching the entries and analyzing the other guys that are in the class, and I've come up with about seven or eight cars that could probably win STU," he says. "A lot of them I've raced against before, so I feel like I'm probably in the top three of that eight cars." Others that could factor are Raymond Philibert (1990 Miata), Tom Lyttle (1994 Miata) and Steve Rose (1983 RX-7). Some unusual cars to keep an eye out for are Roger Troxell's Mazda6 and Matt Wolfe's Mazdaspeed Protege. STU is the penultimate race on the docket, at 3:40 p.m. on Sunday, Oct. 1.
SaveSave
SaveSave