Eric Prill, Matt Reynolds lead a contingent of Mazda Production drivers looking for Runoffs glory at Indy
In the last few years, F Production has become one of SCCA Club Racing's more interesting classes. A mix of classic British roadsters and newer Japanese machinery, it has produced some of the best racing at the SCCA National Championship Runoffs in recent years, and this year's FP Runoffs race at Indianapolis Motor Speedway is set to continue that tradition.
Miatas make up nearly half of the 46-car Runoffs entry, along with a lone 626. Leading the charge will be Eric Prill, a perennial podium finisher who has yet to ascend to the top step. While Prill has a lot of duties as SCCA's vice president and chief operations officer, it's never distracted him too much from getting the job done on track.
"It's very exciting, and as busy as we've been in the office working on all the finite details for the event, I've been able to spend some time in the shop over the last month prepping the car," says Prill. "I think my chances are as good this year as any of the past six with this car. I ran a limited schedule, but tried several new things and learned a bit in those races at COTA, Hallett and Heartland. I'll be ready!" Prill was picked by SportsCar magazine, SCCA's official publication, to once more finish on the podium.
Others with a good shot at being up front include David Bednarz, Charlie Campbell, Ken Kannard, Mark McAllister, Michael Sturm and Mason Workman. But there's another driver Prill has been racing against this season that he thinks has an excellent shot at a podium.
"The Mazda contingent will obviously be in full force, and will prove to be some of the toughest competition," Prill says. "There are the perennial contenders that are battling for the podium each year as well as a new face or two, but the guy that's given me, personally, fits in 2017 is Sam Henry. He got me three out of the four times we went head-to-head this year. It was some great racing! Sam is also an autocrosser, which forces you to be a quick study of new tracks and layouts."
Beyond the favorites, we also have to note one of the hardest working guys at the Runoffs, Mark Weber. Not only is he racing an EP and FP Miata, he also serves as SCCA's official photographer for the event, so when he's not on track, he's standing next to it behind a camera. And, of course, we have to note anyone with the wherewithal to race a 626 in this category, Dave Reiter. The F Production race will go off at 2:35 p.m. on Friday, Sept. 29.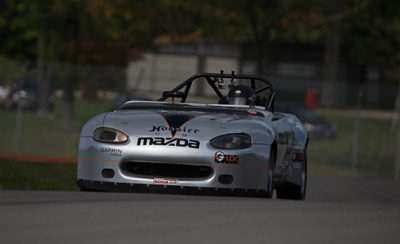 Mazdas have a long history of winning E Production, both Miatas and RX-7s. Since Terry McCarthy took the first win in a Mazda in 1994, half of the Runoffs victories in this class have gone to Mazda drivers. Several of those drivers will be at Indy looking to add another win to the collection, including Jon Brakke, Jesse Prather and, of course, two-time and defending champion Matt Reynolds.
Reynolds was picked by SportsCar magazine to podium, but not win. He's got to be considered at the top of the Mazda competitors, but there's not a whole lot to separate him from some of the others. Jesse Prather is returning to E Production with his new first-generation RX-7 that he feels is well sorted and capable of winning. And Brakke is bringing his potent Miata once again. Any of these three could be on the podium, but they're far from alone.
Aaron Downey continues to seek a championship in his RX-3. Although Downey ran a limited schedule in 2017, he won every race he started. Jason Albright fared well at Mid-Ohio last year in his RX-7, as did Steve Smyczek. Bill Miller had a good season in the Mid-States conference in his RX-7. Bowie Gray Jr. is the only entrant with an RX-8 and could be running toward the front.
Qualifying will be critical, and tough – E Production is combined with GT-Lite for the four qualifying sessions, so getting a clean lap with 70 cars on the circuit will require strategy. The E Production race is scheduled for Saturday, Sept. 30 at 10:40 a.m.
In H Production, there is one lone Mazda entrant, Mark Brakke in a Mazda2 – a car he's been dialing in over the course of the last few years, constantly showing more speed. H Production is the final race of the weekend, taking the green on Sunday, Oct. 1 at 4:45 p.m.