Danny Bender, Jim Drago, Justin Hille, Tyler Kicera, Chris Haldeman and Alex Bolanos lead in the hunt for Spec Miata glory at the SCCA Runoffs
Not only is the 2017 edition of the SCCA National Championship Runoffs (set for Sept. 25-Oct. 1) breaking records for entries, Spec Miata alone stands at nearly 100 cars. It's a deep field full of possible contenders, former national champions and some who have come awfully close to the win in the past. With Indianapolis Motor Speedway being mostly new to everyone (a few drivers have managed to sneak in some time at the track, although in a different configuration), there is no home track advantage.
One thing is clear: With a long front straight and the nearly-as-long Hulman Boulevard straight, anyone caught in qualifying without a drafting partner will likely be far down the grid for the race, so that will be key.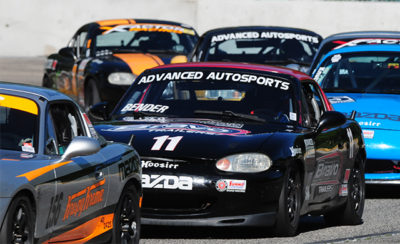 The interesting thing about Spec Miata is that in its 11-year history as a Runoffs class, only Jim Drago has repeated as winner. So, naturally, he's near the top of the list of contenders. But there are many more, perhaps far more than there might be given all the unknowns. It's not like when the Runoffs were at Road America and it was pretty safe to bet on the June Sprints winner. Speaking of which, add Danny Bender to the list of potential winners. Bender, the 2014 Touring 4 champ, is SportsCar magazine's pick to win Spec Miata, so that's got to be worth something.
Tyler Kicera is concentrating on the Runoffs this year, and he's got a lot of buddies in the Idemitsu MX-5 Cup Presented by BFGoodrich® Tires, in which he'll make his debut at Watkins Glen. Those contacts might be valuable for data and track knowledge – MX-5 Cup raced at Indy earlier this year – so you can expect Kicera to make the best of it. And a double win against a stout field at VIRginia International Raceway doesn't push down his odds, either.
"When I go down the list of drivers, there are a lot of really talented people in the field," Kicera says. "But honestly, I feel like all of the heavy hitters, a lot of the guys that are going to be contending for the win, with the exception of a couple of names, were at VIRginia. We had a 55-car field and I managed to come away with the win both days. That gives me a lot of confidence I can at least be in contention at Indy."
In discussing possible Runoffs winners, you certainly have to include the defending champion, and 2016 Runoffs winner Justin Hille is capable. Speaking of repeats, Voytek Burdzy has been on the SM Runoffs podium twice, so he knows his way to the front.
One driver who has been somewhat under the radar but caught Kicera's attention is Chris Haldeman. His previous Runoffs starts haven't produced big results, but Kicera says: "He's really strong on these flat tracks like NOLA and COTA. I think he'll do really well. He picked up the Glen really quick at the NASA Championships last year. I was really impressed by that." Kicera also mentions Alex Bolanos as one to watch.
There are several Spec Miata drivers who are doing double duty, and the extra track time could make a difference. Chief among them is Danny Steyn, who is also racing in Super Touring Lite. Nick Leverone is doubling up in those same classes. 2010 SM champ Andrew Charbonneau returns to the Runoffs, and is running two additional classes.
Others who could factor include Sellin Rollan, Michael Carter, Steven Powers and Paul Holton.
The complicated part is that with only 72 cars allowed to start the race due to the track size, a lot of racers won't be on the grid come Friday – this makes qualifying on Monday to Wednesday that much more important. But those who make the big race will put on one heck of a show, with a slew of drivers ready to make their mark and become the first driver to win Spec Miata at Indianapolis Motor Speedway.
Look for more contender articles as the Runoffs gets closer as we take a look at each class that has a significant Mazda presence.