Formula Enterprise racer is one of only 10 nominated for the TeamUSA Scholarship
"I'm a super-competitive person, so I love the close competition," says Sabré Cook of why she loves racing. "I love when you get to that point when everything feels right – with you, with the car, and everything is second nature and you get into your groove. You have really close racing and you get off the track with a smile on your face. I love that it's a family atmosphere with racing; everyone's a competitor, but at the end of the day, if something happened, they're caring and will reach out to you if you need something."
Like many young racers, Cook started in karts. She now races Formula Enterprise, but perhaps bigger things are on the horizon. "I started racing when I was about 10 or 11 years old," she explains. "My dad used to race motocross and SuperCross professionally, and my parents didn't want us to race motorcycles; it was a compromise to get into karting. So I did karting for a long time and had some success. I have three national championships and three world championships. I've had a great run, but I had been trying to move to cars for the last few years, but it's really hard to find funding. Finally this year I was able to find someone who invested in me enough and I'm running Formula Enterprise and Spec Racer Ford in SCCA right now."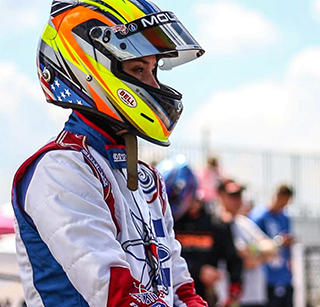 Although she lives in Grand Junction, Colo., the 23-year old has been competing in SCCA's Northern Conference where there is considerably more competition in Formula Enterprise. She sits third in the points with the finale at Grattan Raceway yet to run. Her strong performance in her first year of racing cars got her noticed by the TeamUSA Scholarship judges, where she is one of 10 finalists – two will be selected to go to England for the Formula Ford Festival and the Walter Hayes Trophy this fall. The two winners are also eligible to compete for the USF2000 Scholarship. Eventually, she'd like to be in the Verizon IndyCar Series, but sports cars have her attention as well. First, though, come the baby steps.
"There's a lot to learn, especially with the weight transfer and getting used to the mechanical grip of the car, which I adapted to really quickly. My biggest challenge was when I went to Road America for the first time, because it's a very high-speed track and it's a lot of aero grip. You never have that in karting, and it's a bit counterintuitive – the faster you go, the more grip you have," she says.
Cook is aiming for a National Championship at the Runoffs at Indianapolis Motor Speedway, but is relishing the TeamUSA opportunity. We caught up with her at Mid-Ohio Sports Car Course during the IndyCar and Mazda Road to Indy weekend, where all the candidates were undergoing a series of interviews and meeting some of the players in the industry.
"It was a huge honor to be selected as one of the 10 finalists for TeamUSA," she says. "I'm super blessed. Just today has been a great experience – already I've met so many people and so many legendary drivers and team owners and strategists. Speaking with them was a really great experience and I've definitely learned a lot."
You can bet she'll apply that education to whatever step she takes next.