TeamUSA and Mazda Road to Indy USF2000 Scholarship winner is having an impressive first season in the USF2000 Championship
There are great rookie performances, then there is Oliver Askew's season so far in the Cooper Tires USF2000 Championship Powered by Mazda. The winner of seven races and leader of the championship heading into the final weekend at Watkins Glen, Askew is not only in his first year of racing in the USF2000 Championship, he's actually in his first full year of racing.
To be fair, he had a bit of a head start. In 2015 he raced in the Formula Masters China series, and last year was one of the winners of the 2016 TeamUSA Scholarship, where he earned the opportunity to compete in some prestigious British Formula Ford races, the Formula Ford Festival and the Walter Hayes trophy last fall. He parlayed the TeamUSA Scholarship into winning the Mazda Road to Indy UF2000 scholarship, where champions from a variety of junior open-wheel series are invited to a shootout.
"I wouldn't be racing if it wasn't for Mazda and this opportunity," Askew says. "It means everything. It's possible that they're going to make my career the best it could be. I have the opportunity now to progress in the Mazda Road to Indy, and that's what I'm going to do.
The 20-year old from Jupiter, Fla., had already had a stellar career in karting. Racing didn't run in the family, but when his dad took him to the local kart track for his eighth birthday, he was hooked. He ended up getting sponsored by the Ocala Grand Prix kart team and won several national and international championships. As he fully transitions from karts to cars, he has figured out that racing formula cars is a bit more technical than karts.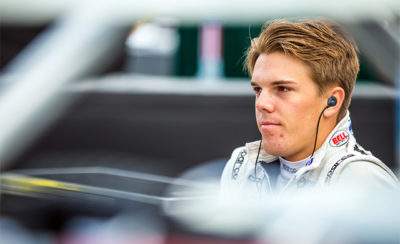 "It's different to karting in a lot of ways," he says. "I think the technicality of making sure the setup is as close to perfect as it can be – there are so many things you can change, and the tiniest thing can throw the car off big time. My feedback has gotten better, and it needs to be better still."
He credits Cape Motorsports with making sure he has the best car underneath him, and admits that after pre-season testing, he wasn't really surprised at his performance this season. "That set the tone for the year," he admits. "There have been some races where we've been off a little bit, but most of them, we've been the quickest."
As might be expected, Askew's goal is the Verizon IndyCar Series. If he claims the USF2000 Championship, he'll be well on his way thanks to the scholarship Mazda offers to compete in the Pro Mazda Championship, the next step on the Mazda Road to Indy. That's a big reward, but it's the personal satisfaction that Askew loves most about racing.
"There are a lot of ups and downs [in racing]," he says, "but the reward when everything goes well and you win races is just massive. The feeling of winning is what I live for."