Second-generation racer Kenny Murillo Jr. will contest TCA for the final three weekends with a MX-5 Cup car
The Murillo name is not unfamiliar to hardcore race fans. Making his name first as a driver and in recent years as an engineer for a variety of cars, including MX-5s in the IMSA Continental Tire SportsCar Challenge Street Touring class, Ken Murillo has put his mark on the world of club and entry level professional racing as a name to trust. Now his son, Kenny Jr., wants to make his own mark and is bringing the Murillo name to Pirelli World Challenge's TCA class with a Mazda MX-5 Cup car.
The younger Murillo has some experience with the cars, having contested the first four rounds of the Idemitsu MX-5 Cup Presented by BFGoodrich® Tires in 2016, the first year the series used the ND-based car. "I've been there since the beginning with Alara Racing," he says. "I've been driving the cars for a while now, and doing some private coaching and some support on the cars data-wise."
Murillo has noted the growth of Pirelli World Challenge in recent years, and has certainly seen Mazda's success in the TCA class with the NCs in 2016. With the ND being admitted to the category this year and scoring several wins so far, he thinks it will be the car to have as he enters the final six rounds of the 2017 season, starting with the double at Utah Motorsports Campus.
"After watching a couple of these races, it seems like the MX-5 Cup car is the car to have in TCA. With the recent balance of performance changes, it seems like it will especially be good at Utah. The rest of the three weekends that I'm entered, I'm really looking forward to the Mazda Raceway event. That's basically my home track. I haven't driven there a lot, but I have basically grown up at that track with my dad," he says.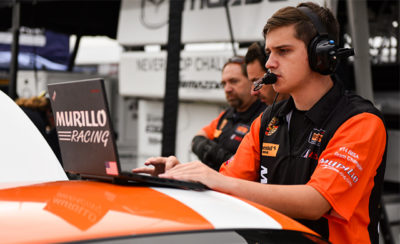 The end of this season is a bit of an experiment with an eye on 2018. "The operation we're putting together is kind of dipping our toes in the Pirelli World Challenge waters and seeing what we can provide to the series and see what we can do," he reveals. "So far, the PWC staff has been extremely welcoming and willing to help us as much as they can. That's already a good feeling that they want us there as much as we want to be there."
For the younger Murillo, this is an effort to branch out on his own. The long-term plan is for a multi-car team with customer cars. That will fund Murillo's own racing efforts, while he keeps the drivers that race with him happy providing support, data analysis and coaching. But this team isn't all about Kenny Jr.
"This team we're building in Pirelli World Challenge has been a great father-son experience," he says. "I've been doing track support for my dad as long as I can remember, especially in the IMSA series where I've been doing a lot of data work. To branch out and start a team together as father and son is incredible and has always been on my list of things to do. I'm really excited about it."