Two of Freedom Autosport's Mazda MX-5s finished at the front of the shortened race.
ELKHART LAKE, Wis.—Saturday's IMSA Continental Tire SportsCar Challenge race at Road America might have been one of the most unusual in series history, but it ended with another win and second-place finish for Freedom Autosport.
For the second consecutive race, Chad McCumbee and Stevan McAleer won the ST class in the No. 25 ModSpace Mazda MX-5. Britt Casey, Jr. and Tom Long finished second in the No. 27 TRUMPF Mazda MX-5.
A red flag for lightning brought the field into pit lane at the start of a heavy downpour not long after the halfway point. Neither McCumbee nor Long had pitted yet for a driver change, so when IMSA officials called the race, McAleer and Casey had not gotten the opportunity to drive. Because of the unusual circumstances, though, all drivers received full points for the race.
The two wins have propelled McAleer and McCumbee to fourth in points. Casey's back-to-back second-place finishes have moved him to fifth in points, and this podium came in front of guests from his sponsors TRUMPF and Cushman & Wakefield.
The No. 26 Semper Fi Fund Mazda MX-5 had to start from the back of the ST field after a problem just prior to qualifying, but Liam Dwyer made up for it during his stint, moving into the top 10. Co-driver Andrew Carbonell took over shortly before the red flag, and he returned to the pits in a finishing position of 13th.
The Road America 120 will be broadcast on FS1 at 1:30 p.m. ET on Sunday, August 13.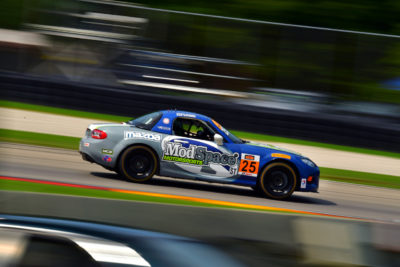 Freedom Autosport Quotes
Chad McCumbee:
I felt that, given the conditions, we were in a good spot to contend for a podium with a lot of work. The car was good in every condition during the race. We also had a good strategy that, race stoppage or not, was going to keep us up front. We'll take this win.
Stevan McAleer:
Road America isn't a strong track for us, though we did get fourth last year and we hoped for something similar this year. This weekend was a weird one: we didn't get a lot of practice laps because of the weather, and then IMSA made their call to end the race. I was literally standing there with my helmet in hand, ready to go. I've never seen a race result end up like this, and no question we were lucky today, so maybe it's our luck turning around.
Tom Long:
I'm excited to be back with Freedom Autosport and to reunite with Britt Casey, Jr. He's an incredible talent and I think he'll have a strong future in the sport, even if he didn't get to drive in this race! We were in the right place at the right time, and it's exciting for me to be on the podium under such memorable circumstances, and to get to celebrate with all of the TRUMPF guests who joined us.
Britt Casey, Jr.:
When the red flag came out, we were really out of fuel and wouldn't have made one more pace lap. Stevan and I were sitting in the box, knowing it would be a shootout if it went back to green. I'm super excited, and it was such a relief when they called the race. It was luck, but you have to be there to be lucky, and we were there. It was all on Tom's shoulders.
Liam Dwyer:
Having to start from the back after problems with qualifying was a challenging position to be in. At Road America, the long straights are a disadvantage for our cars, but I was able to give Andrew a car that was in the top 10. With the weather, we had constantly changing conditions, but it was actually a ton of fun.
Andrew Carbonell:
We've had a tough streak of luck that I'm hoping will make a good finish that much sweeter when the time comes. The Freedom Autosport crew did everything they could: we were fast in practice and had a great car for the race, and we were in a good position, but Mother Nature threw us a curveball and the race finished under conditions I've never experienced in this series before.