MX-5 Cup racer stars in her own documentary about her path in motorsports
Ashton Harrison went from being a teenager with too many speeding tickets to racing her sophomore season in the Idemitsu MX-5 Cup Presented by BFGoodrich® Tires, and she has some top-10 finishes to show for it. Now she's sharing her journey in a new documentary out on DVD in August.
Those speeding tickets earned her a trip to the Bondurant Racing School. "I enjoyed it so much, I ended up going back the next three years in a row to complete all their courses," she explains. "After the last one, they give you your racing license. On the airplane ride back home, I told my dad I wanted to do this."
After some track days, an instructor talked the Georgia resident into trying Spec Miata. She loved it and eventually moved to an NB Spec Miata, competing in club racing in the Southeast. Some coaching from Mazda factory driver and MX-5 Cup development driver Tom Long set her on the path to buying one of the new ND Miata racers and racing in MX-5 Cup.
"It was so much fun and I had such a blast, but it was a huge learning curve. I wouldn't be the driver I am if it wasn't for Tom and my crew at Racing Analytics," she says, before going into detail on the differences between a Spec Miata and the MX-5 Cup car.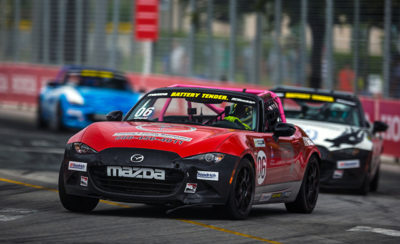 "It's still a momentum car and still super fun. But to go from a car that was so stiff in the NB Spec Miata to something so soft and easy to drive like the ND, it took a moment for me to trust the car for it to lean as hard as it did and to feel it as planted as it was. A Spec Miata is a little twitchy in some ways because it's more stiff, but this one, when it plants itself in a corner, it sticks. It was a big adjustment to trust the car."
Harrison says she hopes what she's achieved so far takes her farther, and would love to move to the IMSA Continental Tire SportsCar Challenge with Mazda, or perhaps to Pirelli World Challenge with her MX-5 Cup car. But her ultimate goal is the Rolex 24 at Daytona in a Mazda prototype. That's why her upcoming documentary is called "The Road to 24."
"The video is about my road there, and sometimes the struggles that come up – being either: A) female; B) not an aggressive driver; or C) funding," she explains. "On top of that, there's the family aspect. Our whole family is involved in this because I wanted to be. It covers the milestones you make while you're a racer, and also what I do outside the track. I'm big in dog and cat rescues, volunteering at local shelters and giving my time and money to shelters that sometimes can't afford to buy food for their dogs.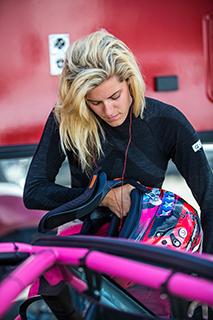 "It's a good point for a young female racer that wants to get into motorsports. It is hard, and it's very expensive, but this movie kind of starts it as a clean slate – look, I've done it, and I started at 18, which is almost considered old in racing. I'm hoping it lights a spark with some young racers, male or female," she adds.
Harrison makes her living as a driving instructor for various manufacturers, and enjoys helping people become better drivers. She's been working on improving herself, as well, this season, working on her fitness and studying track notes away from the circuit. In 2016, she was one of three drivers to finish every lap of the season, and finished the final race with the car pretty much as it started the first. Now she's working on moving farther up in the finishing order.
Harrison will have her next opportunity on Sept. 1-3 when the Idemitsu Mazda MX-5 Cup Presented by BFGoodrich® Tires Tender MX-5 Cup visits Watkins Glen International. Her documentary, "The Road to 24," will be released on Aug. 22. See www.ashtonharrison.com for more information.