– Stevan McAleer and Chad McCumbee Win for Third Consecutive Year at Lime Rock –
LAKEVILLE, Conn. (July 22, 2017) – Mazda MX-5s crossed the finish line first and second today in the Lime Rock 120 for the ST class in the IMSA Continental Tire SportsCar Challenge series at Lime Rock Park. Co-drivers Stevan McAleer and Chad McCumbee won at Lime Rock for the third consecutive year. Their Freedom Autosport teammates Britt Casey Jr. and Matt Fassnaught tied their best-ever finish by overcoming a pit penalty and a late spin to take second place.
In qualifying, McCumbee won the pole for the third year in a row, followed by the Murillo Racing No. 34 Mazda with driver Christopher Stone in second and Fassnaught in third. The third Freedom Autosport Mazda, driven by Liam Dwyer, qualified sixth, which is Dwyer's best-ever qualifying result.
The two-hour race was dominated by the ModSpace-backed car of McCumbee and McAleer, who lost the lead only momentarily on pit stop exchanges. The Murillo car, with Stone and Christian Szymczak, ran a strong second-place until being passed by the No. 27 with Casey Jr. behind the wheel. As the race entered its' final 30 minutes, Casey was trailing McCumbee by inches, but had a quick spin trying to make a pass for the lead. The spin also collected Szymczak, who had to pit with damage, and ending the hope for a Mazda podium sweep. Liam Dwyer put in a superb opening stint before turning the MX-5 to co-driver Andrew Carbonell. Carbonell began experiencing some braking issues and then the car lost power and wouldn't restart, ending their day.
Driver Quotes from the Podium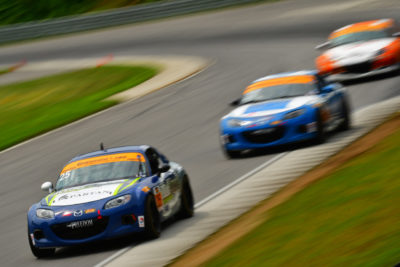 Chad McCumbee, driver, No. 25 ModSpace Mazda MX-5
Describing how their car was best on the final turn, which led onto the long front straight, and making them very hard to pass. "That was our savior. It's been tough since Watkins Glen [where a crash nearly totaled their car], and the Freedom guys have been working week-in and week-out trying to get everything back in-line, but it's physically impossible to do so with only two days of work in between these races. They worked their butts off to give us a great ModSpace car – I'm super glad we're able to get ModSpace back into victory lane. [The win] was more about efficiency. Making no mistakes. And with us choosing to make our car good in a specific corner, it happened to be that last one. We'll take this momentum and have a good finish to the year."
Stevan McAleer, driver, No. 25 ModSpace Mazda MX-5
The seven-turn, 1.5-mile track – considered McAleer's home track – is ideally suited for the handling and braking capabilities of the Mazda MX-5. "Mazdas had been super strong all weekend. Unfortunately, we were probably the weakest one. I knew we were going to have to work hard for this one. Britt was doing a great job and reeling me in, and he got to my rear bumper but we were just too fast in the last corner. He had a few chances, but it was nice clean racing from Freedom Autosport. It's tough what happened near the end (the spin by the 27 car and damage to the No. 34), but as long as we stayed in the same spot, I'm happy."
Matt Fassnacht, driver, No. 27 Trumpf Inc. Mazda MX-5
"The car was solid. I've raced Mazdas for about eight years, and getting in one to another is a challenge, but Freedom gave us a great car. It was just a lot of fun to drive – as usual – and it's why I love to drive Mazdas. They're fun to drive but challenging to push them to the absolute pace. I had a great time!"
Britt Casey, Jr., driver No. 27 Trumpf Inc. Mazda MX-5
"The car was unbelievable all weekend. As soon as I got in, I knew we had the pace to win. I had confidence, and I knew it would be us versus Stevan or us verses Andrew [Carbonnel]. All of us can fight for the win. This track is totally owned by the MX-5s! The drive-through penalty [for a pit equipment violation] was tough, but luckily we got a caution and then I was just chasing Stevan. All of these Freedom drivers – we know what we're doing. So, when we get around each other, we race hard but we race clean. I could not find a way around him. I tried to get him in the up-hill section and I pushed a little too hard and spun, but still rallied back to a second-place finish. A shout out to Trumpf. They're based only 45 minutes away and a hundred of their guests were here. I wish we had got the win for them."