SCCA brought its Championship Tour to beautiful Packwood, Washington this past weekend. The weather was fantastic all weekend, with sunny skies and 80+ degree temperatures giving the asphalt plenty of heat for the 264 competitors to try to work their magic.
The first heat began with two great Mazda classes; CS featured 13 drivers, most of them running the new Miata; and CSP, where all but two of the 10 drivers were in either first or third generation Miatas.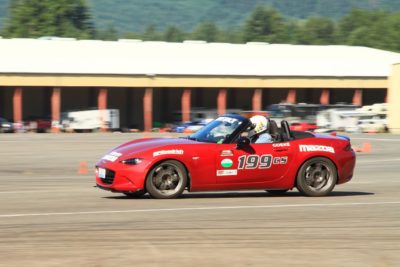 CS featured previous winners Brian Coulson and Maurice Velandia. They both started the weekend off fast, but Joe Goeke (pictured right, #199) would take the top position on his first run and never look back, ultimately taking the win by 1.1 seconds. Coulson fought some push on the first day, so softened his front bar for Sunday. The change allowed him to make up more than the half-second gap he needed to move up to second in front of Velandia. Rounding out the trophies would be Murray Peterson who also drove strong on Sunday to finish just 0.183 behind Velandia. All trophies went to new Miatas.
CSP turned into a battle of Northwest drivers, all of them from the northern part of Washington or Canada. Jim Mclaughlan was back in his '90 Miata, but the rest of the trophy winners would all be new to the class. Matt Zyskowski and Bob Bundy were now in Matt's '92 Miata after running Bob's SSM Miata for the past few years. Don Nimi, who had previously run several different cars, but most recently Hondas in STS, brought his newly prepared '94 Miata. Zyskowski would start Saturday in the top spot for the first two runs, but McLaughlan put down a third run to snatch the lead, with Nimi just a tenth back. Bundy was a bit off the pace, but held onto the 4th trophy spot. Sunday morning had Mclaughlan starting out fast to hold onto the lead after first runs. Cones hampered his second and third runs, however, leaving the door open for the others to try to get in front of him. Bundy put down the fast, clean time on run two, but would still be sitting back in third; on third runs, however, he put down a flyer that ultimately would be fastest in class by 8/10ths of second, and enough to move into the lead. Zyskowski, as the final driver in class, knew he needed to improve and picked up 3/10ths of a second, but would fall short of the win behind Bundy by just 0.053 seconds. Mclaughlan would fall to third, while Nimi held onto fourth.
Heat two brought ES, which would be primarily a battle between NA and NB Miatas and the MR2 Spyder. 12 drivers had their minds set on grabbing one of the four trophies to be given out. Blake DeWit would start out quick in his R package Miata to take the lead over '99 Miata driver John Yeung, after first drivers were done with their first runs. The second drivers set out on course and Tony Rodriguez in his MR2 took over the top spot with John's codriver, Jack up into second. Once second and third runs were done, Carson Orud in a '99 Miata would move DeWit out of the final trophy spot. First runs on Sunday had John Yeung with the quickest run, but it wouldn't be enough to move him up any. On second runs, Jack improved by six tenths to take the lead away from Rodriguez after a cone erased his improvement. Meanwhile, DeWit made up for a DNF (Did Not Finish) on his first run to move back in front of Orud for the final trophy. In the end, Rodriguez cleaned up his third run to take the win over Jack Yeung, John Yeung, and Blake DeWit.
Also in this heat was STS, with its mix of early Miatas and '88 and '89 Honda products. Jeremy Villalva in his '91 Miata set the fast time while the low numbers ran. However, second drivers Oliver Taylor in his '93 Miata and Eric Stoltz in his '92 Miata showed the class where things were going on their first runs out. Taylor would take the lead over Stoltz by 0.2 with Villalva back to third, 0.4 behind Stoltz. Second and third runs showed improvements for most, with Taylor taking the lead into day two, after Stoltz coned on the fast run of the day. Sunday, however, would be Stoltz' day, as he took the lead on his first run and picked up time each run to finish 0.117 in front of Oliver. Villalva maintained third, while Darrel McVey, in the Stoltz car finally cleaned up on his last run to take fourth. Brent Glad in his '88 CRX Si took the final trophy spot.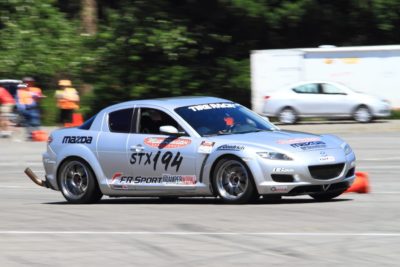 After the lunch break, third heat brought a large 20 driver class in STX. Former Mazda owner Annie Gill took the early lead in the class on first runs, while many of the fast drivers in the class suffered coned runs. She again improved on her second run to take a 0.1 second lead over Mazda RX-8 driver Steve O'Blenes (pictured above). O'Blenes' co-driver Adam Tarnoff had put down a time on his second run that would have left him in third, but he coned it. Unfortunately, his third run ended prematurely, as a broken motor mount stopped his ability to clean up and move up into the trophies. As Tarnoff was the first driver in the car, this also left O'Blenes without a car to take his third run. Most thought this would give Gill the lead going into Sunday, but O'Blenes found a ride at the last minute in Scott Engler's BRZ. For most drivers, this would effectively be a "fun run," as they wouldn't be able to figure out the new car that quickly, but O'Blenes showed his talent by hopping in and shaving off 0.3 to take the lead! After finding a local welder that could weld aluminum and making a three+ hour roundtrip to secure another motor mount, the RX-8 was back, ready for action on Sunday. O'Blenes took advantage of this by holding onto his Saturday lead and increasing his win to 0.337 over Gill.
In the fourth heat, there was much Mazda action, as DP, SSM, and STR were all in this heat.
DP is often a decent sized class in the Northwest, and this weekend was no different, with eight drivers vying for three trophies. All but two of the drivers were in Miatas, with two drivers in an '81 Toyota Starlet. Bret Dodson took the lead into run 2, as Jim Daniels coned his first run to only be 0.1 back in second. Daniels cleaned up his second run in his '94 Miata, dropping Dodson to second, with Sean Green in his '90 Miata rounding out the trophy spots at the end of day 1. Daniels never looked back from here, ultimately taking the win by 2.8 seconds. Ron Baker, who had been less than a tenth out of the trophies at the end of Saturday, laid down a second run that pulled him up into second place, bumping Green out of the trophies. No driver in the class improved on third runs, so it would end Daniels, Baker, Dodson.
SSM brought seven drivers in a multitude of cars: three drivers were in Corvettes; two in Miatas; and one each in a Solstice and RX-7. Jared Still in his '93 RX-7 took the early lead in the class, but ended up chasing Duke Langley in his '02 Corvette for the rest of the weekend to finish second in this three-trophy class.
STR has proven to be one of the strongest classes in the country, not only in numbers, but talent as well. 25 drivers showed up in Packwood to do battle in this class. NC and ND Miatas made up more than half the class with nine drivers showing up in Honda S2000s. Kevin Dietz in his '06 Honda S2000 took a 0.2 lead into second runs over Mazda Motorsports' driver Ron Bauer in his '16 Miata. Dietz then shaved off 0.4 on his second run with Bauer making no improvement. Dietz' previous co-driver Mike Lillejord (who has a '93 RX-7 in his garage) coned away a run in a '07 S2000 that would have landed him in second. Third runs had Dietz shave off a little more time, but took out one of the finish cones. Bauer, meanwhile, shaved off nearly 0.8 seconds to take a 0.139 lead into Sunday. Come day 2, Bauer would start with the fast time in class, but Dietz would move back into first on second runs. Meanwhile, Mark Ayers, also in a '16 Miata came prepared to grab one of the trophies, with a great second run that moved him from 8th up into 4th. Third runs Sunday saw similar action to Saturday, as Dietz again coned away an improvement, this time of just 0.014. Bauer again took advantage of third runs by dropping 0.4 seconds to take the win over Dietz by just 0.150. Trophies would be rounded out by Dean Chen in his '08 S2000, Ayers, Lillejord, Louis Law in the Chen S2000, and Jerry Jenkins in a '06 MX-5. Bauer also finished the weekend second overall, just 0.105 out of the top spot on index.
New for this year, SCCA has been grouping the Ladies classes into one heat to bring a camaraderie to all of the females at the events. The fifth heat featured 13 Ladies classes, with CSL, ESL, STSL, STRL, and DPL all involving Mazda models. While these drivers were all competing for class wins, there would also be an additional trophy given to the top driver based on index.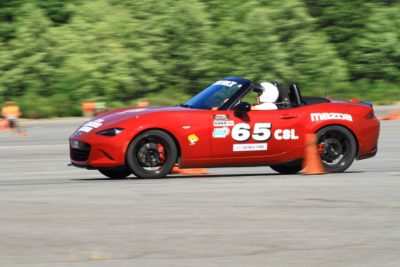 CSL brought five drivers in NC and ND Miatas competing for two trophies. Linda Duncan (pictured left in #65) took the lead on first runs in a borrowed '16 Miata, but Brianne Green would move up into the lead in her '13 MX-5 on her second run and improve again on her third run to take a 0.1 lead into Sunday. Sunday, however, would be all Duncan, as she started 1.3 seconds faster than anyone else in class and kept improving from there to take the win over Green.
ESL had Cat Rice in her '94 Miata R and Julie Tooth in her '03 Miata. Cat took the lead on first runs and never looked back.
STSL had Jessica Sampson take the win in her '91 Miata.
STRL also had five drivers, again in a mix of S2000s and '16 Miatas. After coning her first run, Carol Wong in a '08 S2000 CR showed the way on her second run. Her co-driver Evelyn Lee would finish Saturday in the second and final trophy position. As with her son in STR, Lynn Ayers came into Sunday ready to play. She moved up into second on her first run, bumping Lee down to third, and kept improving from there. In the end, it was Wong over Ayers.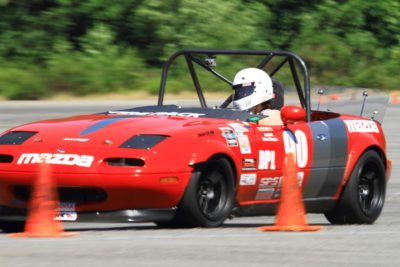 DPL had just one driver, but while Tami Daniels (pictured right, #90) in her '94 Miata had no one to compete against, she proved to be quite fast. Ultimately her runs on Saturday would have put her in third in the Open class, and after Sunday she would have been just out of the trophies. These runs not only earned her the DPL win, but also the top female on index, making her the overall Ladies winner!
Next up will be the Packwood ProSolo this coming weekend with many names from above competing again. Stay tuned for these results.
Photo credit goes to Tim Naugler for taking fantastic pictures at Packwood. Thank you, Tim.