From happening upon an autocross to racing Spec Miata, Linda Kogan has seen a wide swath of the motorsports spectrum
Punished by her father for drag racing as a teenager, even though she hadn't been, Linda Kogan decided she ought to check it out. While she only drag raced once, it began a lifelong affair with going fast. Fast forward to her husband, Philip, coming across an autocross in a Santa Barbara, Calif., parking lot.
"We decided we've got to try this," she says. "We had a Bugeye Sprite, and we took it down there. We were quite outclassed, because our car had an engine transplant to make it more reliable, and that put us in the Modified class. We knew nothing about this – in those days there was no novice class, no ladies classes, so you learned by watching. You worked the course, you watched other drivers, and you just learned by doing, which is the long, hard way."
They moved to New York, then Massachusetts, continuing to autocross along the way. Then it was time to try something different, and they went karting, racing enduro karts at New Hampshire and Summit Point. In the early 1980s, her husband bought her a session at the Skip Barber Racing School, and she loved it. She worked at the office, would flag the corners, any kind of barter work she could come up with to get more time in the cars. But it wasn't until almost two decades later that she discovered Spec Miata.
"Our friend called and said he wanted to do some endurance races, but couldn't do them by himself, and would we be interested," she says. "I got my SCCA license and started doing races with him, then I started renting the car to do races on my own," she says. She got her husband to do it as well. "The Miata was so reliable, the three of us would take turns driving the car in one weekend."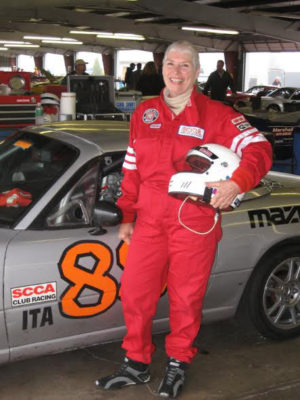 When the Miata become available to buy, the Kogans did, and continued to race it for several years until they decided to go back to the warmth of Southern California. They sold the car with the idea that they would buy something new in California. That was three years ago, and so far that hasn't happened. But the fire still burns in Kogan, and she has fueled it by serving as a driving instructor for some car clubs.
It was that fire for racing that may have helped her get through one of her toughest times. "In 2007, I was diagnosed with breast cancer," she explains. "I went through surgery, chemotherapy, and radiation, and was at that point very much wanting to race, and I was concerned how this was going to affect my ability to continue racing. I was actually able to get back in the race car while undergoing radiation. The people were amazing with their support, especially the first time back in the car.
"The one thing I found is it changes your perspective a lot, and a lot of the things I was nervous about before, I wasn't anymore. I found I was a much better driver after that. I became stronger, and I guess you have a much different outlook. So I would encourage anyone, if they're facing a major illness and they're worried it's going to stop things … If it's something you're passionate about, you're going to find you're a lot stronger than you thought you were," she says.
Kogan is looking at her 70th birthday in the near future, and still wants to get back into a race car, even if she knows that it may be difficult. But she thinks fondly of that Spec Miata, and the difference it made in her life.